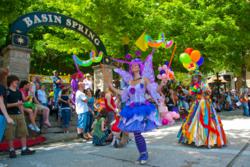 Eureka Springs, AR (PRWEB) April 29, 2013
Every May, the city of Eureka Springs shines a spotlight on the arts with a month-long festival that celebrates the visual and performing arts.
The festival showcases the works of more than 350 working artists that live in the community and because of the length of the festival and the many venues available, every artist in Eureka Springs has an opportunity to show.
May Festival of the Arts kicks up its heels with what is perhaps the city's most colorful and festive parade of the year, the ARTrageous parade. It rolls through historic downtown at 2 p.m. on May 4th.
Gallery strolls, usually only held the second Saturday evening of each month, are scheduled every Saturday evening. In addition to free refreshments at participating galleries, each gallery stroll will also include special artists' receptions and shows.
One of the month's most festive and well-attended events is the annual White Street Studio Walk, which takes place May 17th, from 4-10 p.m. Historic White Street is the working address of a large number of local artists who welcome the public into their homes and studios to view their latest works.
New exhibits for this year include: Eureka Springs Music Park – interactive music sculptures on permanent display for public enjoyment in the North Main parking lot. The musical sculpture instruments have been conceived and designed by Ranaga Farbiarz. The sound sculptures will continue to evolve into art pieces as Farbiarz and a collaboration of local artists complete the artistic embellishments over the summer. The Basin Park Art Fest takes place on Saturday, May 25 at Basin Spring Park from 11 a.m. to 9 p.m. "Tales from the South", presented by The Writers' Colony at Dairy Hollow features true stories by the Southerners who lived them.
Two new public art projects from The Creative Energy Project include: The Sphere – a huge community sculpture created by Robert R. Norman. "The Sphere" will be unveiled and lit during a high-energy party on Saturday, May 4 around dusk at Basin Spring Park on Spring Street. The second project called "Mugs," is an extensive cross section of the local creative community, produced by John Rankine.
Both culinary and fine arts will be on display this month during "A Taste of Art." Eureka Springs' restaurants will host local artists and their works while tempting the public with their cuisine.
For more information and a full calendar of events, and a printable weekly calendar, visit http://www.eurekaspringsfestivalofthearts.com.
<br>About the Company:<br>
Eureka Springs is an exceptional Arkansas Victorian mountain village! Located in the Northwest corner of beautiful Arkansas, Eureka Springs brings art, music, fine dining, lodging from rustic to luxurious, night spots, distinctive attractions and worlds of outdoor activities; there will never be a dull moment. Visit http://www.eurekasprings.org for more information.