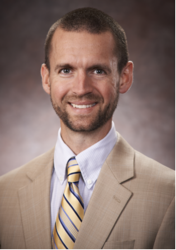 "Ken has been one of the best project managers that EPIC has had," says John Schott, President of EPIC Systems, Inc.
St. Louis, MO (PRWEB) April 30, 2013
EPIC Systems, Inc. has announced the promotion of Ken Sipes to Process & Mechanical Group Manager from Project Coordinator. All process and mechanical engineers, project managers, and piping designers report directly to Sipes. His expanded role includes mentoring, overseeing project assignments, design and estimate reviews, and many of his duties from his previous role of Project Coordinator.
"Ken has been one of the best project managers that EPIC has had," says John Schott, President of EPIC Systems, Inc. "He is very level-headed and a clear thinker through tough situations. We want Ken to take these skills and mentor as many people within EPIC as possible. He makes an excellent mentor because he doesn't give up on people prematurely," continues Schott.
"It is rare to find someone who is both a good designer and an excellent project manager. Ken has also been involved in championing and completing many initiatives, involving safety, quality, shop efficiency, project management, cost containment, etcetera, to make EPIC better," remarked Schott
Sipes has been with EPIC for almost six years. He is being promoted from his role as Project Coordinator and was previously a Project Manager/ Process Mechanical Engineer. In the Project Coordinator role, Sipes reviewed all projects plans before they went to the fabrication shop. He also oversaw all shop related activities, including: manpower scheduling and performance evaluations, shop/ building improvements and tooling/ equipment asset analysis.
Sipes has nearly 12 years of industrial manufacturing experience and has been an integral part of EPIC's full service engineering, fabrication and installation project management team for almost six years. He holds a Bachelor of Science in Mechanical Engineering from Southern Illinois University at Edwardsville and completed an EIT certification.
"I have been incredibly fortunate at EPIC to be given the opportunity to continue my career growth. My new role has already been both challenging and rewarding. Throughout my career I have been blessed with great mentors. While working to continuously improve the execution of our entire group, I plan to blend the methods of my mentors with my own ideas, to help develop our young engineers and designers," says Sipes.
ABOUT EPIC SYSTEMS: Founded in 1995, EPIC Systems, Inc. is an experienced multi-disciplined engineering and fabrication firm. EPIC provides turnkey solutions for modular process plants and systems, integrated packaging and assembly lines, custom machinery manufacturing and advanced automation and machine vision system integration.
EPIC Systems is located in St. Louis, MO USA. To learn more about EPIC, visit the website at http://www.epicsysinc.com or contact them today for an engineering evaluation of your application.
###
Contact: Michael Riehn
314-845-0077
mrepic(at)epicsysinc(dot)com