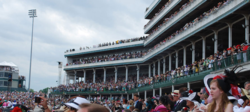 This is the week when we get the most ticket requests. The faster you contact us, the more likely we have the tickets or travel package that fits your needs.
Louisville, KY (PRWEB) April 27, 2013
It is just about one week from the "Run for the Roses" and it still is not too late to witness the top horse racing event of the year. By waiting until the last moment to secure Kentucky Derby tickets, a race fan is less likely to obtain a seat at a price that is affordable."Last year was record breaking for Churchill Downs and so far it looks as if that could be surpassed," according to several Louisville KY business owners who thrive on the big boost to their local economy annually.
For the economically minded, the grandstand is an acceptable choice. Reserving this bench style seating is still preferable over a long day of standing or sitting in the infield grass. With an upgraded grandstand seat ticket, there is easy access to the paddock area, as well as betting windows, refreshments and restrooms. For a bit more comfort, upgrading to chair seating, such as box seats, may just be the ticket. As with the grandstand, the ticket holder will have easy access to areas of race track importance along with a more spacious environment in a six person box. When looking for a high class experience coupled with dining and more private race track amenities, tickets in the Gold Room, Turf Club, or Millionaires Row aim to please. DerbyDeals.com has an extensive ticket inventory and will be able to put you in the seat you want!
For out of town guests that want to leave the vacation planning to someone else, be sure to check out the Kentucky Derby packages that include travel and lodging accommodations. With an extensive list of hotels, DerbyDeals.com is sure to have a travel or hotel package that will suit your tastes and budget. Derby Deals packages include tickets to both the Kentucky Oaks and Kentucky Derby Days, as well as nice lodging and transportation services to and from Churchill Downs horse racing track.
In addition to Kentucky Derby tickets and Kentucky Derby packages, a popular choice of fans that want to fully enjoy the Kentucky Derby atmosphere, VIP passes are available from Derby Deals.com to a couple of the Louisville's best Derby parties as well as tickets to tour local thoroughbred farms or bourbon whiskey distilleries. Time is running out, so make haste to DerbyDeals.com and check out the best that the Kentucky Derby has to offer. This is the break from the workplace grind that creates a lasting lifetime memory.
DerbyDeals.com is based in New Albany, Indiana just across the river from Louisville, Kentucky. Being a local company which devotes all of its efforts to providing horse racing fans with the best of Kentucky Derby Tickets and all-inclusive Kentucky Derby Packages that includes parties and other special events, Their focus is on the long-term success of thoroughbred racing and to help many of its fans achieve the dream of attending the Kentucky Derby for the first time in style.