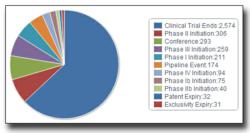 Norwood, MA (PRWEB) April 30, 2013
BioPharm Insight's monthly Catalyst Monitor analyzes the most material events in the sector during the upcoming month. The Catalyst Monitor tracks significant events and announcements such as US Food and Drug Administration (FDA) approvals, Advisory Committee meetings and expected key clinical results.
Although the FDA expressed concern regarding the overall survival trend in the TIVO-1 trial, on 28 November 2012, AVEO Oncology announced that the agency had accepted for filing the NDA for tivozanib in advanced renal cell carcinoma (RCC). The PDUFA date is set for 28 July 2013. According to the experts interviewed, gaining market share will be a challenge for tivozanib in the crowded RCC market, which has blockbuster drugs such as: Onyx Pharmaceuticals/Bayer's Nexavar, Pfizer's Sutent (sunitinib) and Torisel (temsirolimus), Novartis' Afinitor (everolimus) and GlaxoSmithKline's Votrient (pazopanib).
In December 2011, GlaxoSmithKline and Theravance announced results of two, pivotal six-month efficacy and safety Phase III studies of Relvar/Breo (fluticasone furoate/vilanterol) in chronic obstructive pulmonary disease (COPD). In January 2012, the company revealed two 12-month exacerbation studies which physicians described as underwhelming for treatment. On 18 April, an FDA advisory panel voted 9-4 that Breo's benefits outweighed its risks and a final FDA decision is expected in May 2013.
Experts have told BioPharm Insight that whilst the publicly disclosed lung function data and safety profile may be enough for a registration, mixed efficacy results on combination efficacy versus individual components alone, still leaves room for regulatory scrutiny. All experts agreed the product's comparative profile to GSK's soon-to-be generic Advair (salmeterol/ fluticasone proprionate), severely diminishes its market potential.
Other catalysts in May include:

Delcath's Melblez is deemed safe enough for US approval in ocular melanoma that has metastasized to the liver.
Nektar/AstraZeneca's NKTR-118 (naloxegol) should have positive Phase III results and will likely be approved in opioid-induced constipation.
Learn how BioPharm Insight can help you find new business opportunities by starting a free trial today.
About BioPharm Insight
BioPharm Insight is the definitive guide to the global biopharma community. BioPharm Insight provides subscribers with an information edge by combining the most comprehensive real-time database of companies, drugs, contacts, M&A and licensing deals, forecasts and clinical trial data with proprietary forward-looking intelligence uncovered by an independent team of investigative journalists months or even years before it breaks in mainstream media. To learn more, visit http://www.biopharminsight.com. Follow BioPharm Insight on LinkedIn and Twitter.
About Infinata, Inc.
Infinata provides personalized technology solutions to turn information into insight. Services include a comprehensive BioPharm Solutions Suite, unique Wealth Prospecting tools and innovative Custom Data Services. Infinata is a part of Mergermarket, a Financial Times Group company and a division of Pearson plc. To learn more, visit http://www.infinata.com.