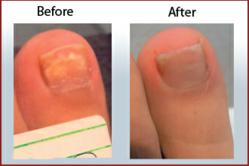 About 5 million adults in the UK are affected by toenail fungus
Knightsbridge, London (PRWEB UK) 29 April 2013
Beauchamp Foot Care is sharing tips about the causes of toenail fungus so people getting ready to go on summer holiday will know what to do to avoid contracting the fungal infection.
As people begin planning for summer holiday, toenail fungus is the last thing on their mind, but about 5 million adults in the UK are affected according to the National Health Service. In order to avoid contracting toenail fungus it's important to know the causes. Below are tips from Beauchamp Foot Care.
1. Wear shoes that allow feet to breathe when in a hot, humid environment. These humid conditions provide an ideal setting for toenail fungus to grow and thrive.
2. Practice good foot hygiene. Feet should be washed and dried thoroughly every day, and going barefoot in public places should be avoided.
3. Be aware of feet perspiration. An increase in activities like running and other sports cause feet to perspire heavily and can also cause cause a ruptured nail plate. When the moisture from the perspiration gets trapped in the nail cracks, toenail fungus could begin to grow.
4. Ask if tools have been properly sterilized at nail salons. If someone had toenail fungus and the tool used on them was not properly cleaned then cross contamination can occur.
5. Health and Genetics also play a part in causing toenail fungus.
If toenail fungus is already a problem, Beauchamp Foot Care offers a toenail fungus laser treatment that uses a device called the PinPointe Foot Laser. The laser light beam works by penetrating the fungal nail and killing the pathogens causing the fungus. The treatment often produces significantly better results than oral or topical treatments.
To book a free consultation or to learn about the spring offer of £100 off toenail fungus laser treatment, visit http://www.beauchampfootcare.com or call 0800 907 0093.
About Beauchamp Foot Care
Beauchamp Foot Care is a clinic founded in 1990 with four experienced, highly qualified dedicated foot specialists plus support staff. The clinic treats patients for a variety of foot conditions related to fungal nail infections and general chiropody. Beauchamp Foot Care is located in central London close to Harrods. The clinic's podiatrists/chiropodists are members of The Institute of Chiropodists and Podiatrists and are registered with the Health & Care Professions Council. The podiatrists each have over 20 years' of qualified experience in podiatric care.
###