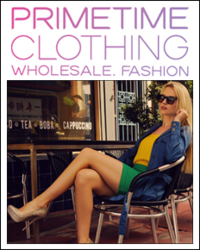 "Everyone wants to look great, and that's the simple principle behind all of the wholesale apparel items we carry at Primetime Clothing," said a company spokesperson
(PRWEB) April 28, 2013
PrimetimeClothing.com, a leading online retailer of wholesale fashions, is pleased to announce the availability of a range of medical uniforms. All medical uniforms sold by Primetime Clothing are priced at or below wholesale pricing, making them the best value in the industry.
Primetime Clothing is already known as being the premier provider of the hottest fashions available at wholesale prices, and the company is excited to expand its inventory with the availability of medical uniforms.
"Everyone wants to look great, and that's the simple principle behind all of the wholesale apparel items we carry at Primetime Clothing," said a company spokesperson. "Just like you want to look your best in your daily clothes, it's also important to feel good in your uniform worn at work, so we're thrilled to be able to offer our customers the opportunity to purchase high-end medical scrubs and uniforms at prices they aren't going to be able to find anywhere else."
Primetime Clothing isn't simply offering standard medical uniforms. The company is working to bring fashion, style and flair to scrubs and other uniforms worn in the medical industry. The wholesale scrubs available from the retailer come in various colors, patterns and styles, which suit both individual tastes, as well as the requirements necessary for an individual's profession or particular area of medical specialty.
The company carries plus-sized scrubs, scrub sets, and the most sought-after brands in the medical industry, such as Landau. In addition to purchasing individual scrub pieces and sets, Primetime Clothing also offers customers the opportunity to purchase packages of six of each item, all at the lowest possible prices.
Customers of the site also currently have the opportunity to receive 15% off their first order from Primetime Clothing by entering the discount code PRIMETIME, at checkout.
About PrimetimeClothing.com
PrimetimeClothing.com is an online wholesale clothing distributor. The retailer offers only the most high-quality wholesale apparel and accessories, for both men and women. New items arrive daily from Los Angeles-area manufacturers and importers. With over 25 years of experience in the business, PrimetimeClothing.com brings expertise and know-how to the industry. The retailer specializes in fashionable Junior, Missy, Plus-Size, Men's, Active Wear, Intimate, Handbags, and accessories, at the lowest possible prices. For more detail please visit, http://www.primetimeclothing.com/.