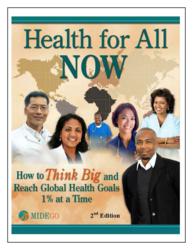 In this new edition, Dr Beracochea emphasizes that the ultimate resource to make a bigger impact in global health is human resourcefulness
Fairfax, VA (PRWEB) April 30, 2013
MIDEGO, Inc. (http://www.midego.com), the pioneer in global health consulting, is proud to announce the release of the 2nd Edition of its signature book "Health for All NOW" by Dr. Elvira Beracochea.
In 2008, when MIDEGO's President and CEO, Dr. Elvira Beracochea, wrote the first edition of this book that includes MIDEGO's unique innovative approach to Global Health, she did not expect it to become a blueprint for what global health work must be; a true partnership between health professionals of different backgrounds and experience working together to make "Health for All NOW" a reality. The unique global health approach in this book is a departure from typical global health projects because it focuses on delivering assistance in a personalized yet streamlined and efficient way that meets the personal and professional career development needs of health professionals in developing country settings. The book also addresses the need to see global health improvement as a long term process in which health professionals must invest their whole careers to save lives and achieve the ultimate impact of their country's progress and development.
In this new edition, Dr Beracochea emphasizes that the ultimate resource to make a bigger impact in global health is human resourcefulness, the one unlimited resource within all developing countries. Global health programs must systematically build on the resourcefulness of health professionals in developing countries by providing them with the tools and support they need to succeed. This book shows them how.
Through a simple, but not simplistic parable, the book effectively shows that it is not the results of a foreign-funded project that matter the most, but what the health professionals in that country are able to do and achieve as a result of the support and assistance foreign nations provide. This book shows how to focus donors' global health assistance on what really empowers health professionals in developing countries to achieve their goals in their own terms: the power of a personal mission.
With updated technical information, expanded guides and checklists and an integrated approach to health care delivery that is not based on a disease or a vertical program, this new edition of the "Health for All NOW" book shows how one person can turn his or her professional career into a legacy that will impact the well-being of whole communities and even the entire country. This book is a must read for global health professionals, project managers, supervisors, and training institutions that need a simple and effective way to communicate what global health can be. This book demonstrates ways to improve healthcare in developing countries and what it takes to better peoples' lives in a very-cost effective way. It also shows the support health professionals in developing countries really need to implement cost-effective interventions and improve their performance and career development.
"What makes this book unique is not only that it embodies my belief in the resourcefulness of health professionals in developing countries, and my confidence in their passion for personal and professional growth and development, but also has the essential technical information to make global health work for all NOW. Without resourcefulness and passion, and the right technical information, no donor or country can achieve lasting results and the health goals of the Millennium Development Goals (MDG). With less than two years to go to the MDG targets of 2015, this new edition of the book shows how to maximize those essential ingredients of a successful global health improvement intervention, and how to put the ownership of achieving health for all in the hands of its rightful owners, health professionals in developing countries," says Dr. Beracochea.
Visit MIDEGO at http://www.midego.com for more information. The "Health for All NOW" 2nd Edition is available in e-book and paperback formats.
About Dr. Elvira
Dr. Elvira Beracochea is founder, president, and CEO of MIDEGO, Inc, a consulting firm that provides innovative global public health and international development solutions to governments, organizations and individuals. She has more than 25 years of experience as a physician, public health and international development expert, health policy advisor, epidemiologist, researcher, health systems and hospital manager, university teacher and health management consultant and coach in Latin America, Africa, Asia, and the South Pacific.
About MIDEGO
Founded in 2005, MIDEGO is a well-established global health consulting company, specialized in professional and organizational effectiveness in the health sector. MIDEGO's mission is to help countries exceed the Millennium Development Goals, hence the name of the company. MIDEGO helps clients improve how they work and save more lives while advancing in their careers. MIDEGO also works with partners to create and implement effective and efficient organizational health development strategies that are led by empowered local leaders. MIDEGO's online training and coaching programs help health professionals realize their career mission by leading the kind of changes they know they need to bring about in their countries. Find out more at http://www.midego.com