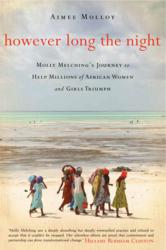 Molly Melching saw a deeply disturbing but deeply entrenched practice and refused to accept that it couldn't be stopped. Her relentless efforts are proof that commitment and partnership can drive transformational change. - Hillary Rodham Clinton
San Francisco, CA (PRWEB) April 29, 2013
When Molly Melching arrived in Senegal in 1974, she was a 24-year old graduate student looking forward to a six-month study abroad program. Those months, however, quickly turned to years as she launched a humanitarian campaign dedicated to bringing an innovative educational program to communities in West and East Africa—transforming the lives of hundreds of thousands of African women and girls in the process.
In However Long the Night: Molly Melching's Journey to Help Millions of African Women and Girls Triumph (May 2013; HarperOne), acclaimed author Aimee Molloy tells Melching's incredible story as she went from a typical Midwesterner to "one of the most powerful women in women's rights" (Forbes). From her childhood in Illinois to her arrival in Dakar to her ongoing work today, Molloy illuminates Melching's zest for life, passion for helping others, and perseverance in sparking large-scale social transformation through the most basic idea: a respect for human rights.
Through Tostan, an organization she founded in 1991, Melching has championed a groundbreaking approach to education in over twenty African languages, working within the community to facilitate people themselves making major cultural changes. Over the years, Melching's "community-led" social strategies have been implemented to address a wide range of Africa's most pressing needs, from increased education of women to enhanced health care to a significant reduction in Female Genital Cutting—a deeply entrenched traditional practice. And her hard-earned success is a true testament to "what one woman can achieve by patience and cultural understanding…and by not being deterred" (Tina Brown, on NPR's Morning Edition).
Alongside the story of Melching's tireless efforts to empower the people of West and East Africa are stories of these inspiring women and men as well—powerful tales of those who have fearlessly embraced a new vision for their future, and fought to break down the cultural traditions that have long held them back. In However Long the Night, these stories illustrate how true change can start with one woman, and how the connections between women can lead to a better world.