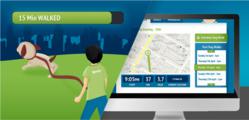 Our goal is to use technology to change the landscape of conventional pet services
New York, NY (PRWEB) April 26, 2013
Swifto takes dog walking as a service a step further by controlling the entire user experience from end-to-end, providing clients with the ability to view the route of their walker on a live map through an internal GPS tracking mobile application, and automating their operational back-end with a custom built web application. Behind their technology oriented approach however, lies a culture obsessed with customer service and reliability; creating a strong and scalable foundation for a business that relies so heavily on trust.
The round from Benchmark occurred a while back, but was never announced to the public to prevent attracting competitors to a surprisingly large niche market. And the hesitation was right to be there; in just over a year the company is cash positive with a 20% month-to-month growth rate in revenue and projected yearly revenue to be in the 7 figures. Swifto plans to expand to Boston by the end of the year, and both Chicago and San Francisco in 2014.
"Our platform asks dog owners everything a potential caretaker may have to know about the dog. Starting with temperatures that the dog may be sensitive to, to the commands he or she respond to, our sign-up process is extremely comprehensive. All of the data is seen on the app, which has a clean and friendly UX design, allowing our dog walkers to easily keep track of their responsibilities and schedule," said the company's founder, Penina First, a serial entrepreneur from Israel who first acquired seed funding from Swifto by winning multiple global business competitions.
The pet-care industry is a hidden gem; a $60 billion dollar opportunity with extremely concentrated markets in urban locations. New York City alone is estimated to have over 1 million dogs.
Dog walking has always presented a major concern to dog owners, namely in the fact that there is no way to verify whether walkers actually performed said services. The Swifto GPS tracking app sends clients a text at the beginning and at the end of a walk, a photo along the way, and allows owners to track a walker's progress on a live map of Manhattan as the walker progresses through the route.
To control the entire user experience and guarantee a seamless experience, Swifto only offers private walks and screens their dog walkers extremely thoroughly. Potential candidates must have previous professional experience walking or caring for dogs, must display a passion and extensive knowledge of dogs, they must be college educated, and they must pass a background check. After meeting the requisite standard, they then go through 3 interviews (including a complimentary meet-and-greet with potential clients), a training session, and must pass a graded exam.
A client gets a free Meet and Greet with a selected walker. Only after that meeting, and once a client deems a walker to be a perfect fit, do walks commence. Payment is taken care of automatically online via credit card, with all payments being processed by Stripe.
"Our goal is to use technology to change and disrupt the landscape of conventional pet services. We're using a scalable growth model to disrupt the industry while rapidly gaining market-share. Dog walking companies never end up growing past their small business stage because their backend isn't capable of handling the operational difficulties involved with scaling. Ours is, and we're using it to dominate," said Mohammed Ullah, the company's CEO who was quoted in between drinking red bull, coding, and writing 4 different e-mails, all simultaneously.
Swifto's recipe for success includes a culture obsessed with customer service and creativity, a team of visionary workaholics, and the office dog, Merlin, a half-wizard Pomeranian who has final say on all major decisions.
A 30-minute dog walk costs $20.