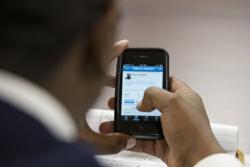 Scottsdale, AZ (PRWEB) April 26, 2013
According to Simply Measured, 97 percent of brands use Twitter.
This stat clearly illustrates the importance companies place on Twitter for their marketing efforts. It's also a good reminder on how all businesses—regardless of size—can benefit from it.
"Twitter will go down in history as one of the most powerful branding tools," said Guy Kawasaki, former chief evangelist for Apple and co-founder of Alltop.com. "Right now, it's second to only Facebook–and many people may consider it better than Facebook."
Having a Twitter strategy in place goes a long way in its overall success. Here are five tips to help boost sales through your Twitter page:
1. Build a targeted base of followers.
Individuals interested in your business are the ones most likely to purchase from you. Encourage customers and prospects to follow your Twitter account by placing a follow button or link on you Web site, marketing materials and other social media sites.
Become a follower of other's Twitter pages to expand your reach of prospective customers. Look for businesses that are local or within your specific industry.
2. Tweet discounts. Mobile coupons—like those promoted in a tweet—get 10 times the redemption rate of traditional coupons, according to Borrell Associates. Twitter is free advertising that can really boost sales!
And it's the reason why a good percentage of customers are following you. Get Satisfaction and Column Five Media state that 43.5 percent of Twitter users follow a brand for special offers and deals.
3. Tweet regularly.
The most successful Twitter pages are the most active ones. Customers and prospects become followers of your Twitter page to be informed. Inactivity can create disinterest and may make them less likely to remain engaged with your business.
Commit to tweeting at least a few times weekly, if not more often.
4. Respond to comments.
Don't let questions or comments go unanswered. Responding in a timely manner shows that you care about your followers' feedback and concerns. It also shows that there's a real person addressing their needs, which adds an appreciated personal touch to your social media program. And that can translate into sales!
5. Use photos
Compliment your tweets with photos of the products or services you're promoted. Like traditional print advertising, people are more likely to respond to a discount if they see an image.
This also creates a photo library where prospects can instantly view your products or services.
Learn how Appointment-Plus scheduling software can boost your social media campaigns. Call 800-988-0061. Visit http://www.appointment-plus.com.
About Appointment-Plus: Appointment-Plus scheduling software helps grow businesses by automating and streamlining the booking process. It offers customer self-scheduling, reminder notifications that reduce the no-show rate by 70 percent, and online payment-processing. The software integrates with Facebook and Twitter.