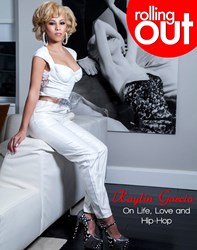 Atlanta, GA (PRWEB) April 27, 2013
Prior to her reality television debut, Kaylin Garcia was already well known in the social media circuit, compliments of her now-ex-boyfriend, Joe Budden. Budden splashed the virtually unknown exotic beauty's pictures across Twitter and Instagram, where she developed admirers of her fit figure and advocates of her relationship.
Now on her own, a free-spirited Garcia is dishing on her pre-reality TV life, her famed relationship gone awry and why she wouldn't mind fading into obscurity.
"…and then I met Joe [Budden]. I didn't know where life was going to take me from [there]…," Garcia tells rolling out's reality television editor Danielle Canada.
Visit rollingout.com to read the interview in its entirety and get all the details about this half Thai, half black bombshell. Be sure to check out the exclusive photo shoot and video footage with celebrity photographer DeWayne Rogers.
About rolling out Magazine:
Rolling out, the nation's largest free urban weekly, is a digital and print magazine that focuses on the black experience in response to entertainment, politics, fashion, culture, sports and lifestyle points of interest. Headquartered in Atlanta, rolling out is positioned as the voice for the African American experience, using its newspaper as a platform in the marketplace to express urgency for education reform, and to document entrepreneurial endeavors and other relevant issues in the Diaspora. For information on rolling out, please log on to rollingout.com.