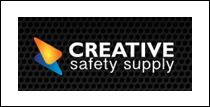 (PRWEB) April 28, 2013
Creative Safety Supply is announcing three new products: an Extreme High Temperature Supply, a LabelTac Ultrachem Supply and an LT Tag Stock product. All products meet or exceed industry standards for quality and reliability.
The Extreme High Temperature Supply enables the labeling of hot surfaces with brightly colored labels and signs. The material is designed to withstand regular and high temperatures and to withstand punishment without scratching or smudging. The variety of colors helps facilities meet OSHA, ANSI and ASME color-coding standards even at hot surface locations.
The LabelTac Ultrachem Supply ensures that safety labels and signs don't fade or smear from chemical exposure. The material is rated for resistance against many chemicals such as brake fluid, diesel fuel, IPA, MEK, acetone, xylene, petrol, and more. This product is most useful for automotive labels, medical/pharmaceutical labels, chemical drums, chemical disposal locations, and for chemical spill/danger warning labels.
Employees are safer in dangerous environments if there are labels that don't fade under chemical abuse. The pressure-sensitive properties of LabelTac ensure that the lettering stays intact even against abrasion, and the bond remains strong. The product offers a lower cost of lamination than competitors, faster preparation time, and lower chance of errors.
LT Tag Stock enables signs and labels to be easily attached to equipment and components. The stock can be sized and shaped as needed and is tear-resistant – ideal for use in heavy industrial environments.
Creative Safety Supply is a leader in safety products like floor signs, floor tapes, pipe markings, safety signs, custom signs, and organizational tools – all designed to save mechanics' time and increase facility safety channels and safe zones. For additional information please visit, http://www.creativesafetysupply.com/.