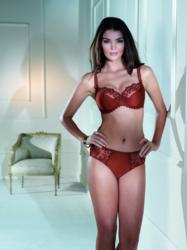 Ft. Lauderdale, FL (PRWEB) April 29, 2013
German-founded intimate apparel company, Anita International, is releasing two new colors of bras to the Rosa Faia division. The newest additions include"Arabian Spice" (a burnt orange hue) to the Scarlett collection, and "Nine Iron" gray to the Ella collection.
Anita International caters to the needs of the full cup consumer with sizes ranging from A - I cups available. Categorized as the prettiest and most alluring of Anita International's 5 lines, Rosa Faia offers a wide selection of functional lingerie.
The Scarlett collection introduces the newest color, Arabian Spice. The Scarlett bra includes an underwire with elastic loop embellishments. The underside of the cup is lined with cotton for comfort, while the top part of the cup is accentuated with sheer embroidered lace. Comfortable padded straps are camouflaged with matching lace and delicate bows for added comfort and beauty. Accommodating a full range of cup and band sizes, the Scarlett collection is versatile and functional.
Like the Scarlett collection, the Ella collection is constructed with full-busted consumers in mind. Cup sizes range from B-G. Decorative filigree flower embroidery adds subtle beauty to the sides of the Ella bra while the cups feature alternating mat and gloss textures. The Ella also offers cotton-lined interlock fabric around the cup for maximum comfort against the skin. C-shaped underwire molds to the contours of the body and adapts to each movement.
Both the Scarlett and the Ella collections feature matching briefs and will launch their newest colors this June.
ABOUT ANITA INTERNATIONAL
Over 127 years' experience and a clear eye for quality, function and comfort make Anita International one of the most authoritative intimate apparel specialists in the world. With a diverse line of products that cater to women of all body types and ages, ANITA offers unique products that gives women confidence.