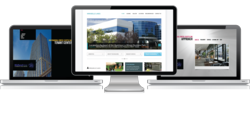 BuildingConnect looks great and makes us look great
Boston, MA (PRWEB) April 29, 2013
Building Engines, global provider of comprehensive web-based and mobile property and tenant management solutions, today announced the launch of BuildingConnect, an affordable, fully branded website solution that provides a simple way for commercial property owners and managers to offer and manage online access to a tenant service portal, tenant handbook, and public marketing information –all wrapped into a central location.
Included free with the Building Engines Platform, BuildingConnect provides CRE organizations with a simple way to self-manage and extend their amenities and service, drive tenant engagement and showcase their brand with a visually stunning website that connects tenant handbooks, service requests, leasing information, photo and video galleries, building services, visitor access, resource scheduling and more.
Offering attractive design themes complemented by powerful search, communication and management tools, BuildingConnect websites can be built quickly (no information technology skills required) using pre-built templates and a familiar content editor.
"BuildingConnect looks great, makes us look great, reinforces our company branding, and increases the functionality for our tenants," said Monica Graham, Sr. Property Manager at Harsch Investment Properties.
BuildingConnect offers new features designed to improve the experience of tenants, prospects and staff and solve three major issues previously plaguing many property website solutions:
1. All tenant services unified through one, fully branded log-in
2. Easy content management
3. Flexible control over public (building and leasing information) vs. private (tenant-only) content.
The launch of BuildingConnect represents Building Engines' continuing commitment to customer and market-driven development. This new product provides property owners and managers with an affordable and attainable solution for marketing individual properties and serving their existing tenants with a single, unified web presence that is easy to launch, configure and manage.
View a sample BuildingConnect website at: 700westthames.buildingengines.com
About Building Engines
Building Engines is a web-based and mobile system providing owners and managers of all property types with a comprehensive solution for improving operations and workflow management. Founded in 2000 by an entrepreneurial team of building and facilities operations management professionals, Building Engines serves the needs of hundreds of millions of square feet of commercial, corporate, institutional and health care real estate in the United States, Canada and Europe. More information: http://www.buildingengines.com.