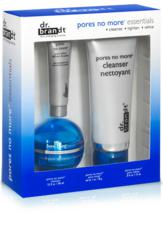 "Dr. Brandt's pores no more pore refiner is my secret to having closeup ready skin. It shrinks the size of pores and refines the skin, it is brilliant!"- Gwyneth Paltrow
Miami, FL (PRWEB) April 29, 2013
Renowned celebrity dermatologist and founder of dr. brandt skincare, Dr. Fredric Brandt has recently launch this three easy step value set with the key products for enlarged, clogged pores and excess shine. Render large pores invisible with Dr. Brandt's pores no more® essentials for oily and combination skin. These unique formulas unclog, refine, and minimize pores, control excess oil, and mattify shine.
First, use full-size pores no more® cleanser (3.5 fl oz), a non-drying, pore-refining cleanser formulated with botanicals and salicylic acid to dissolve impurities, oil and debris for calm, clear, balanced skin.
Then, follow with full-size pores no more® pore thing® with Evermat™ t-zone pore tightener (1 oz), a 2012 SELF Healthy Beauty Award for Best Allover Acne Solution. This t-zone gel was developed to gently clear pores, reduce excess oil and restore enlarged pore walls, snapping them back into shape. Lentil Seed extract refines skin texture and tightens pores by strengthening pore walls as Evermat™ balances sebaceous gland activity, providing a matte finish. Eijitsu Rose extract provides anti-inflammatory benefits as Alpine extract decreases sebum production and reduces shine. pores no more® pore thing®, effectively smoothes and mattifies skin while reducing the appearance of enlarged pores for a more even, clearer complexion.
Last but not least, apply travel-size pore no more® pore refiner (7.5ml) a classic celebrity cult favorite. This silky, smooth formula instantly diminishes the appearance of pores, mattifies shine, and preps skin for makeup application in one simple step. Tea tree and flaxseed extract provide continuous pore refining benefits, while micro-spheres diffuse light and have a high oil absorption, so skin looks and feels smoother, more uniform and shine-free. For beauty on the go, re-apply throughout the day as necessary.
pores no more® essentials value set is a $85 value - only $59 and ships free.