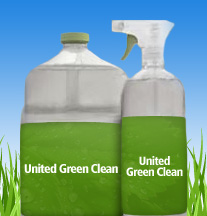 Laurel, MD (PRWEB) April 29, 2013
To help Maryland homeowners wrap up spring cleaning, United Greed Clean announces a special discount on its carpet cleaning services in Maryland, offering steam-cleaning of any five rooms and a hallway at 70 percent less than regular price.
For a limited time, five rooms and a hallway can be steam-cleaned for $64.95, which is a 70 percent saving compared to the regular price of $249. The coupon can be accessed and printed out via the "special offers" section on the company's website.
For smaller homes with fewer carpeted rooms, United Green Clean also offers special spring rates on individual room carpet cleaning, available at $15.95 per room with a minimum order of three rooms.
"Carpets tend to get soiled and lose appearance over the winter, as they suffer from heavy traffic due to family members being trapped indoors by the cold weather," pointed out Alex Antonov, the manager at United Green Clean. He added that as far as spring cleaning goes, carpets should be cleaned last to keep them looking fresh longer.
According to the Environmental Protection Agency (EPA), carpets often trap dust, debris, mold spores, pollen, pet dander and other allergens, which is why regular cleaning is essential to maintaining both carpet's appearance and a healthy home environment.
The EPA recommends vacuuming the carpets with a well-functioning vacuum cleaner on a regular basis, as well as performing wet extraction (steam) cleaning periodically.
"When our Maryland carpet cleaning customers ask us how often they should have their carpets professionally cleaned, we typically advise them to get it done once a year," added Antonov. He elaborated, that depending on the size of the family, amount of traffic and homeowners' lifestyle, steam cleaning can be performed more or less frequently.
According to the Angie's List Guide to Carpet Cleaning, carpets should be steam-cleaned as often as two to four times a year if the household includes pets, smokers or small children.
About United Green Clean
Based in Laurel, Maryland, United Green Clean is a residential and commercial cleaning company, serving Maryland, Virginia and Washington, DC. The company's services include professional carpet cleaning, air duct cleaning, mold removal and water damage restoration. For more information about United Green Clean, please visit http://www.unitedgreenclean.com.