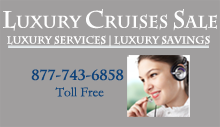 Luxury Services Luxury Savings
Tucson Az (PRWEB) April 28, 2013
LuxuryCruisesSale.com is the online cruise sale division of Bon Voyage Travel, a travel agency founded in 1976 in Tucson, Arizona. As many brick and mortar travel agencies closed down over the last decade, CEO of Bon Voyage Travel Peter Evans entered into the online market after an increased demand for an online luxury presence and thrived. In the past two years Bon Voyage Travel's secret ingredient for success in transforming traditional retail success into online sales is their six niche luxury sites for the top luxury brands Regent Seven Seas, Silversea, Crystal, Oceania, Windstar and Paul Gauguin. The agents for these niche sites use their specialized training as experts for each line to provide superior online customer service. LuxuryCruisesSale.com launched in May of 2011 to brings this expert knowledge together in one place. The site has added other luxury lines, including Cunard, Seabourn, Seadream, Azamara Club Cruises and Lindblad, so that a customer can receive even more comprehensive information. Now to accommodate their growth and continue to give timely, expert customer service the site has created a concierge service and hired a new cruise specialist.
New Cruise Specialist.
The luxury experience that these customers expect on board is also provided during the booking process and beyond by LuxuryCruisesSale.com. Tara Peiffer has been hired for the new concierge position for the division. As concierge she helps clients with trip insurance, documents, arrange passports and visas, answer questions about amenities, schedule shore excursions and dining, arrange payments and more. Tara is getting extensive training on all the top luxury brands, and is going on an official ship inspection to ensure she is familiar with all potential passenger needs. This unique luxury feature for customers ensures that they are getting luxury service before they even start their cruise vacation.
In 2012 LuxuryCruisesSale.com expanded its staff, including developers to increase the functionality of the websites. Along with Tara Peiffer, Robin Stephens has come on board as an online cruise consultant with extensive experience in the travel industry. She previously spent ten years with Bon Voyage Travel before acting as an independent agent. LuxuryCruisesSale is excited to welcome her back, now to specifically support top luxury cruise brands.
With the addition of Robin and the new concierge service, LuxuryCruisesSale.com will be able to serve more customers, and continue to quickly respond to any questions or concerns they may have. Customers looking for luxury service and the best deals and exclusive amenities can click here and speak with a LuxuryCruisesSale.com agent today to see why the site's motto has become "come for the savings, but stay for the service."