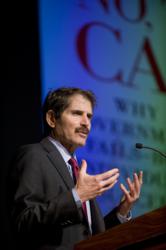 Government never fires itself. Competition makes people better.
Sheboygan, WI (PRWEB) April 26, 2013
Armed with the central planks of the libertarian platform, Emmy Award-winning journalist and commentator John Stossel addressed a packed Bradley Theatre at Lakeland College's 12th annual Charlotte and Walter Kohler Distinguished Business Lecture on April 25.
Stossel elaborated during his 40-minute talk on his support of free markets for basic needs like health care and suggested that the market would regulate itself by rating hospitals, which would earn reputations, and forcing changes that would benefit consumers through competition.
"That's creative destruction that makes everything better," Stossel said. "Things get better in a free society. As we get richer, we get smarter."
Stossel has devoted his career to forwarding his beliefs, beginning with his lengthy stay at ABC News where he was a fixture on the popular show "20/20," and now at Fox News, where his current program, "Stossel," started in 2009.
Along the way, he's received numerous honors and awards, including 19 Emmy awards, and has been honored five times for excellence in consumer reporting by the National Press Club.
"I'm a monkey on TV that tries to demonstrate principles that economists smarter than me have taught me," he said. "The rules (of government) are well intended, but they're insane."
Stossel pointed to everyday products and services that are the result of entrepreneurs and ingenuity, not government rules and regulations. But when something goes wrong, he said Americans of all political persuasions are often quick to call for government intervention, saying "There ought to be a law."
A prime example, he said, came with the creation of the Transportation Security Administration (TSA) by the federal government following the 9/11 terrorist attacks. Cities were allowed to opt out and hire private firms that followed TSA rules, and San Francisco did. Stossel said studies showed that San Francisco screeners did a better job than their TSA peers in other cities of finding potentially dangerous carry-on items. Ultimately, he said, some in government said the ability to opt-out wasn't considered advantageous to federal government.
"Wouldn't McDonald's like to say that to Burger King?" Stossel said. "Government never fires itself. Competition makes people better. Government is like someone who jumps in front of a parade and says 'I lead the parade.'"
Prior to the lecture, Stossel met with approximately 40 Lakeland students enrolled in introductory mass media and news writing classes and a microeconomics course for a question and answer session.
He answered a variety of questions about his career and viewpoints, and discussed how he overcame a stuttering problem. He noted that he entered journalism without a formal degree in the discipline, and encouraged students interested in the field to learn the trade by doing it as much as possible, especially with today's numerous ways to communicate.
Following the lecture, he signed copies of his latest book, "No, They Can't: Why Government Fails-But Individuals Succeed."
Stossel's appearance at Lakeland is made possible by a gift from The Charlotte and Walter Kohler Charitable Trust. Lakeland annually brings a nationally known business or economic figure to its main campus to speak with the Lakeland community and the public.
The Charlotte and Walter Kohler Charitable Trust is named for former Wisconsin Governor Walter Kohler Jr. and his wife, Charlotte. The Trust was established by Charlotte Kohler to preserve the society and culture that made their good fortune and success possible.