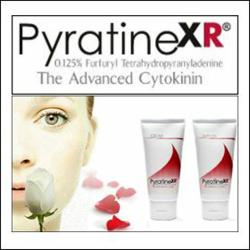 Dr. Donald Richey, a Board Certified doctor of dermatology, has said that "rosacea is one of the most commonly missed dermatological conditions."
(PRWEB) April 29, 2013
Pyratine®LLC, an innovative provider of skin care products, has released a powerful new medication in time for Rosacea Awareness Month. PyratineXR®, a physician strength medication, is available as a lotion, crème, ointment and cleanser; it soothes and heals the dry, red, and irritated skin associated with rosacea.
The National Rosacea Society established the observance in April to draw attention to the warning signs of the widespread skin condition; it is estimated that rosacea affects more than 16 million Americans. Dr. Donald Richey, a Board Certified doctor of dermatology, has said that "rosacea is one of the most commonly missed dermatological conditions."
Dr. Richey goes on to say: "Rosacea is a chronic disease with flares and remissions. It is an unending battle. Early diagnosis is important to avoid the need for laser treatment." PyratineXR®, when used in consultation with a doctor, can mitigate and significantly reduce the effects of rosacea as it is a powerful anti-inflammatory agent and a potent moisturizer significantly reducing facial redness and acne lesions while helping skin retain the much needed moisture to eliminate dry, patchy skin.
According to Richey, "PyratineXR® is the best over the counter topical treatment for rosacea. Most patients will see results in a couple of weeks, depending on the severity of their condition."
In addition to PyratineXR®, the experts at Pyratine® have also developed Pyratine-6® in order to combat the effects of aging skin. Pyratine's products are designed to revitalize damaged skin at the same time as they protect it from future damage. To learn more about Pyratine's offerings, call 888- 467-9728. To locate a doctor in your area, visit us at: http://www.pyratine.com/6/find_physician.asp.
About Pyratine®LLC
Pyratine®LLC is an international skin care technology company that focuses on the science of healthy aging and dermatological therapeutics. Pyratine® has become a leader in the research and development of innovative and proprietary skin care compounds; the company is dedicated to helping people restore and maintain healthier skin. For additional information, please visit, http://www.pyratine.com/.