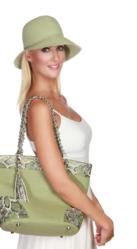 A matching sun hat & bag provides instant summer style
Kentfield, California (PRWEB) April 26, 2013
SolEscapes.com an online boutique specializing in sun, beach and resort essentials is offering a limited time 10% off sale on matching hat and beach bags/totes. Use coupon code "HB-10" valid until 5/12/2013. A matching hat and bag is a great way to accessorize an outfit during the warm summer months. In addition to providing instant summer style, the sun hat offers great sun protection for the face and the bag style is very versatile taking the user from shopping in the city to lunching at the country club and from relaxing at beach to perusing the resort. The sun hats are packable and can be stored in the matching bag when not used.
Ladies love the chic and stylish design of the Anaconda straw hat and bag set with faux snakeskin trim and a cute tassel. The bag has a double chain strap with a 9.5" drop. The sun hat is a simple cloche style 3.5" brim with 50+ UPF. It comes in 3 colors: Grey, Brown and Green. The Gatsby Collection has classic styling in great contrasting color combinations: White/Navy, Yellow/Black and Coral/ Ivory. The Gatsby comes with a coordinating sun protection hat with contrasting ribbon. Finally, the Serengeti is a fan favorite with a gorgeous printed scarf. The straw hat is 4.5" brim cloche sun hat. All three styles of bags have a lined interior with back wall zippered pockets.
SolEscapes also offers a great selection of beach bags perfect for summer including trendy raffia bags in brown, natural and black straw with leopard detailing; durable recycled sailcloth bags with whimsical nautical and sea life patterns; and cutting edge waterproof neoprene totes with color blocking.
SolEscapes is a California based online boutique offering a unique selection of stylish and practical sun, beach and resort essentials for all your warm weather needs. SolEscapes offers personalized service, high quality products and fast affordable shipping. Merchandise including all beach hats is carefully and beautifully packaged to ensure a perfect arrival. For more information please visit SolEscapes.com. You can also connect with SolEscapes on Facebook, Twitter and Pinterest.