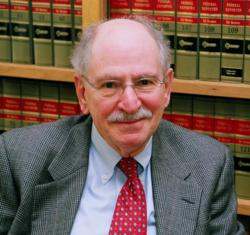 "I am humbled to serve in this capacity for the Newtown-Sandy Hook Foundation,"
WESTPORT, CT (PRWEB) April 29, 2013
Alan H. Nevas, a retired federal judge and special counsel to Westport (Conn.) law firm Levett Rockwood P.C., has been selected to chair the committee that will allocate $7.7 million in funds to the 40 families most severely impacted by the Sandy Hook School tragedy.
The Newtown-Sandy Hook Community Foundation, Inc., the charity formed to receive and distribute the funds, announced that Dr. John Woodall, a psychiatrist with special expertise in posttraumatic stress disorder and related studies, and Joe Smialowski, a 32-year Newtown resident, will join Judge Nevas on the panel. Atty. Kenneth Feinberg, who has a national reputation in the administration of mass victims funds, will serve as special advisor. All service by these individuals is being rendered on a pro bono basis.
Judge Nevas was appointed to the District Court for the District of Connecticut by President Reagan in 1985. He is currently active as an arbitrator and mediator. Earlier in his tenure at Levett Rockwood, he was appointed by former Gov. M. Jodi Rell to chair the state's investigation into the causes of the deadly Feb. 7, 2010 explosion at the Kleen Energy power plant in Middletown, Connecticut.
Prior to his service on the federal bench, Judge Nevas served as United States Attorney for the District of Connecticut from 1981 to 1985. From 1971 to 1977, he represented Westport in the Connecticut General Assembly where he served as Deputy House Majority Leader from 1973 to 1975 and as Deputy House Minority Leader from 1975 to 1977.
"I am humbled to serve in this capacity for the Newtown-Sandy Hook Foundation," said Judge Nevas. "I have been very impressed by the dedication and commitment of the Foundation's board. Their talents in combination with the advice and counsel of a nationally respected expert like Ken Feinberg will no doubt be of great assistance to the Committee."
Public hearings have been scheduled for May 7 and May 8 in Newtown.
Levett Rockwood is a leading commercial and health care law firm based in Westport, Conn. For three decades the firm has devoted itself to providing practical solutions and personal attention to its business clients.
The firm's lawyers have a depth of experience in many areas, including mergers and acquisitions, commercial transactions and litigation, healthcare, capital formation, commercial real estate, equity funds, employment, tax and intellectual property law.
Levett Rockwood's clients are diverse in size and industry mix. They include technology companies, internationally-known manufacturers of consumer and industrial goods, acute care hospitals and other health care providers, prominent advertising and sales promotion agencies, corporate boards and executives, and the financial industry, including investment advisors, hedge funds and venture capital firms.
Go to: http://www.levettrockwood.com/people.ahnevas.asp for more information about Judge Nevas. Go to: http://www.levettrockwood.com or call 203-222-0885 for more information about Levett Rockwood.
###