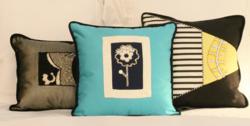 OCARINE is a truly beautiful collection and we are thrilled to bring Karina's vision of haute couture for the home into our showroom
Los Angeles, CA. (PRWEB) April 29, 2013
Diving into the past to inspire present trends, Karina Oldemans, a renowned Los Angeles-based interior designer, has set a new standard in accent pillows with OCARINE. This distinctive collection is made using vintage beaded samples inspired by American designers such as Galanos, Halston, Norell and Blass. Each unique design incorporates a Mary Ann Embroidery sample, a company active in Los Angeles from the 1940s through the 1960s, and is fabricated using only the highest quality of materials and workmanship.
Egg & Dart Home introduced the OCARINE collection at their Los Angeles showroom; 529 North La Cienega Blvd, West Hollywood, CA 90048, to much success and accolades from designers and colleagues in March 2013 for WestWeek.
As a long time connoisseur of rare textiles, launching the OCARINE collection was close to the designer's heart. It is her desire to bring haute couture to the home through stylish, one of kind decorative creations in rare materials that uplifted the tone and overall quality of the collection. "Clearly, says Karina, "these are not pillows to lounge on. I consider them jewelry for the home."
Karina's vision for OCARINE being designed as jewel-like works of art fits perfectly with Egg & Dart Home's unwavering sophistication and dedication to expertly crafted innovative styles of high design quality. The company's recent opening of their expansive multi-line showroom offered Karina and her collection a valuable platform for reaching top designers. Karina easily recognized the benefit of having OCARINE represented on the burgeoning and design-centric La Cienega Boulevard.
"OCARINE is a truly beautiful collection and we are thrilled to bring Karina's vision of haute couture for the home into our showroom. The ornate, intricate beadwork and fine workmanship of the pillows pairs well with our highly styled home fashion designs," says Gayle Hudson, Creative Director of Egg and Dart Home. "We view this as the beginning of a flourishing partnership."
Both a mix of modern and classic shapes and an assortment of finest materials were selected to highlight and frame the elegant workmanship of the vintage samples. OCARINE Pillow designs range from iridescent pearl and crystal beading to classic paisley patterns, and come individually encased in a silk organza dust bag. Additionally, they offer the benefit of being an environmentally conscious product made from repurposed fabrics.
No longer perceived as mere common use objects, the current demand [and trend] in home accents is in luxury, quality, style, and very unique pieces. The OCARINE collection exemplifies this elevated direction accessories for the home have taken.
For additional product photography or to schedule an interview with the designer, contact Shaun Thompson at (310) 838-0444; shaun(at)shaunthompsonpr(dot)com or Karina Oldemans at Karina Oldemans Interior Design (310) 820-0320; Karina(at)karinaoldemans(dot)com. To view the complete collection, visit OCARINE.com.
About KOID
Karina Oldemans Interior Design was founded by Karina Oldemans in 1975. The company is a full service residential interior design firm specializing in timeless, classic interiors with modern sensibilities. Educated in Paris, France, in the Interior Architecture department of the École Superieure des Arts Modernes, Karina Oldemans is the company's principal designer. She is especially regarded for her expertise in French 18th Century Decorative Arts and antique French and Flemish tapestries. Named one of six "Rising Stars" in the country by Interior Design magazine in 1995, Karina and her work are regularly featured in leading design publications including Architectural Digest, Traditional Home, California Home & Design, Better Homes and Gardens, and the internationally acclaimed Estilos & Casas. She has appeared on Discovery Channel's Interior Motives program, on HGTV and on ABC's Beautiful Homes and Great Estates and Finland's Inno. Karina Oldemans Interior Design is located at 2932 Wilshire Boulevard, Suite 207, Santa Monica, CA 90403. karinaoldemans.com.
About Egg & Dart
Egg & Dart Home is an exceptional resource representing the industry's finest home fashion designs. The showroom specializes in highly styled, exquisitely crafted home and contract furnishings to the Design and Architectural trades in a trend setting, highly productive showroom. Their staff has great communication skills, strong work ethics and is dedicated to help with design projects. egganddarthome.com/