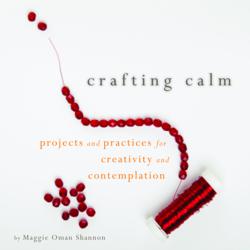 (PRWEB) April 29, 2013
In this wild and wired world, it is increasingly difficult to truly relax and find the stillness within. Maggie Oman Shannon's Crafting Calm is a DIY guide to peace of mind, offering an abundance of ways to achieve serenity and satisfaction by living the handmade life.
Maggie Oman Shannon will be at events around the Bay Area for the launch of her new book, where she will be leading people in workshops such as creating prayer beads and flags, such as at the launch part at Bookshop West Portal in San Francisco. Join her at one of these events, or listen to her on the radio.
4/28: Unity Spiritual Center, Ocean Ave, San Francisco, CA - 11am
4/29: Inside Personal Growth Radio - 9am
5/2: Bookshop West Portal, San Francisco - 7pm
5/4: Books, Inc. Alameda, CA - 7pm
5/7: Danielle Lin Enterprises, Inc Radio - 10:30am
5/9: One Woman Soul Radio - 11am
5/9: Capitola Book Cafe, Capitola, CA - 7:30pm
5/17: The Donna Seebo Show - 9am
5/22: Energy Awareness Radio - 3pm
5/23: Readers Books, Sonoma, CA - 7:30pm
5/30: Book Passage San Francisco, CA - 6pm
6/9: Unity Spiritual Center, Bush St, San Francisco, CA - 11am
6/24: Welcome to Blissville Radio - 9am
6/27: Conscious Talk Radio - 7am
7/3: Publishers Weekly Radio - 12pm
7/22: Chautauqua Institution, Chautauqua, NY
Author Oman Shannon, the spiritual director of a Unity Church, explores crafts and creativity as a lifelong practice with enormous physical, emotional and spiritual benefits. And by knitting love and hope into every stitch, handicrafts help form new friendships and community. From making a desktop shrine or mini-Zen garden, to stringing intention beads and painting personal flags, Crafting Calm is an essential tool for making mindfulness. Maggie Oman Shannon was recently on The Soul Directed Life, discussing the benefits of crafting for peace of mind.
"Awaken and illuminate creative and spiritual connections with Crafting Calm: Projects and Practices for Creativity and Contemplation. Nourish oneself and others with this practical, elegant, deeply inspiring book. The title alone will uplift the spirits!" —SARK, author, artist, Succulent Wild Woman PlanetSARK.com
"A marvelous book of ideas to help me craft the crazy away and reclaim my tranquility." —Reeda Joseph, author of Girlfriends are Lifesavers