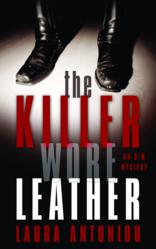 "Meaty tale of murder, mystery, and mayhem."

— Debra Hyde
(PRWEB) April 27, 2013
Tomorrow (April 28), Laura Antoniou will host a special reading and book signing for The Killer Wore Leather at Barnes & Noble Dallas. The deliciously tongue-in-cheek murder mystery has biting humor and keen insight, and is the first-ever mystery to take place in a leather convention. Antoniou is a master at crafting unique characters that fairly jump off the page. The novel is a truly innovative mixture of genre, with equal parts comedy, thriller, and romance. Here's a tiny teaser that shows the wit and style of Antoniou's latest: "Donny the photographer was annoyed at being awakened so early, but when he saw the magical murder word, he hit the ground running so fast his text looked like he stepped on his phone."
The Killer Wore Leather Reading
Sunday, April 24, 7pm
Barnes & Noble
7700 West Northwest Hwy., Ste. 300,Dallas, TX
Laura Antoniou authored the well-known Marketplace series of erotic novels. She has also edited the groundbreaking Leatherwomen anthologies, and writes scholarly work. In 2011, Antoniou won the Lifetime Achievement Award from the National Leather Association. Her work has been translated into Spanish, German, Hebrew, Japanese and Korean. With over 20 years of experience writing, teaching, and speaking about kinky sex communities, Antoniou has sold over 600,000 books and counting. She resides in Queens, New York.