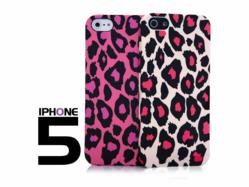 Cute iPhone 5 cases for the new Apple iPhone 5 that girls everywhere are sure to love
(PRWEB) April 29, 2013
Lollimobile.com, a premium retailer of cute and stylish mobile accessories for the modern girl and now the ultimate online store for cute iPhone 5 cases, today added 2 new iPhone 5 cases to their growing line up of adorable mobile accessories.
Lollimobile.com is the premiere source for feminine mobile accessories thanks to both it's incredible selection of cute phone cases and it's top rated customer service which offers a 30-day money back gurantee on all purchases. Now, Lollimobile.com is proud to announce the addition of new cute iPhone 5 cases that are sure to be the most popular cases yet.
Hello Kitty Bow iPhone 5 Bumper Cases:
These cases feature a durable thick bumper with a cute little bow in the top corner which adds character and style to any iPhone 5. It provides great protection and easy access to all buttons and ports. The Hello Kitty Bow Series cases are available in 7 adorable colors including: Black, Light Blue, Pink, White, Red, Hot Pink and Lavender Purple with a retail value of 19.99 USD.
Leopard iPhone 5 Case:
These leopard print iPhone 5 cases are just what every fashionista has been looking for if they want a cute and fierce pattern to show off their iPhone 5. The Leopard iPhone 5 Case is made of a durable TPU plastic with a snap fit design and has an abstract leopard design around the sides and back of the case. The Lollimobile Leopard iPhone 5 Wallet Case cases are available in 2 hot color including: Pink and Hot Pink with a retail value of 19.99 USD.
Lollimobile is also restocking some of it's favorite best-selling products such as the Melt iPhone 5 Cases in a variety of great color combinations and the Lollimobile Clarity Series cases which have been sold out for months. Hurry and get these great best selling cases before they are gone again.
About Lollimobile:
Lollimobile.com, founded in July 2012, Lollimobile.com is the ultimate online resource for cute mobile accessories. The website http://www.lollimobile.com already carries over 150 products, from Apple iPhone 5 cases to Samsung Galaxy S3 cases and all new Samsung Galaxy S4 cases. With some of the most competitive prices on the Internet today, Lollimobile.com keeps costs low for consumers while providing an easy, service-oriented shopping experience. The idea is to not only bring the largest selection from all around the world but also to offer the best customer service through their "Love it guarantee" which offers not only free shipping but also offers free no-questions-asked returns. Visit http://www.lollimobile.com to learn more.