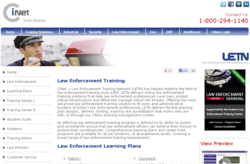 CiNet's LETN courses provided an easily accessible solution, which saved the academy in terms of both cost and development time. - Major Jeffrey Glazier, Atlanta Police Department
Dallas, TX (PRWEB) April 29, 2013
The Atlanta Police Department recently chose CiNet's Law Enforcement Training Network (LETN) to complement its leadership academy training. The department is an early adopter of CiNet's new enterprise training solution to support department-wide training for all levels of officers and administrators. CiNet's LETN training is focused on enhancing officer skill sets to improve both public safety and officer personal safety while minimizing the department's overall financial and legal risks and exposure.
The Atlanta Police Department is incorporating LETN training into their academy education program to supplement their existing training and help fulfill continuing education (CE) and certification requirements. Specifically, the LETN online modules will be incorporated into the Atlanta Police Leadership Institute—a newly launched formal academy that helps put officers on a career track for leadership within the police force—and will provide essential leadership, management and ethics training modules.
"The Atlanta Police Academy was tasked with creating a career development program for future leaders. CiNet's LETN courses provided an easily accessible solution, which saved the academy in terms of both cost and development time," noted Major Jeffrey Glazier of the Atlanta Police Department. "Our training budgets are conservative, and LETN didn't compromise on quality but worked with our budget and the funding we obtained from the Atlanta Police Foundation to support this effort."
A weak economy, the national sequester and the across-the-board spending cuts are impacting critical investments in public safety job training. Yet, it is important to understand the relationship between safety for emergency response personnel, controlling liability risk, and the maintenance of critically needed training programs. Training is the key to reducing liability risk and, more importantly, ensuring the vital safety of emergency responders.
"CiNet's LETN courses are an economical solution for police departments' tightening training budgets," noted Lonny Wilder, vice president of CiNet's Public Safety Group. "CiNet's newly launched LETN enterprise solution provides training across a department's professional levels. Additionally, because LETN courses are accredited by the Georgia POST and many other state accreditation agencies, officers can fulfill many of their CE training requirements with one solution."
About CiNet
Critical Information Network has been training employees for over 25 years. Established in 1986, CiNet's unique approach to online training has enabled us to be a true public safety industry leader. Our public safety brands for police (LETN), fire (FETN), EMS (PULSE), and Security personnel (PSTN) leverage our online training modules and eLearning Performance Center to collect and organize data from across the public safety industry and transform it into learning solutions that produce results. CiNet is home to one of the largest libraries of eLearning content in the world, merging voice and video data together to create interactive learning experiences in real time and providing accredited training and information to organizations when and how they need it. For more information visit http://www.criticalinfonet.com.