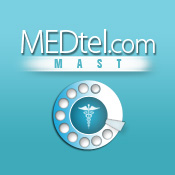 "Before MAST, confirming surgical cases was an administrative burden..."
New York, NY (PRWEB) April 30, 2013
The Medtel.com Automated Surgical Tracking (MAST) and Confirmation Platform debuts this month in three top-ranked hospitals in the Northeast. The MAST platform is being deployed in the orthopedic, neurosurgical, and interventional radiology departments to facilitate surgical procedure planning and logistics. MAST represents a key component of Medtel.com's HIPAA-compliant, vendor relationship management (VRM) system designed for healthcare providers operating in the modern era. MAST is the first comprehensive platform to confirm procedure and logistics information for surgical teams on both the hospital/surgical office side and the participating medical device (implant) company side. For more information about Medtel.com and its MAST platform, visit the Medtel.com website at: http://www.medtel.com.
Why MAST Now?
Before the arrival of the MAST platform, confirming surgical cases with reps and ensuring accurate delivery of devices was a time-consuming administrative burden, often performed manually with no audit trail by surgical schedulers, operating room (OR) nurses, and/or medical staff. The modern healthcare environment cannot afford such labor-intensive administration. It demands efficiency, standardization, and cost-innovations that save time while enhancing safety and accountability. The MAST platform delivers on these demands while also offering predictive "pre" and "post" procedure analytics for hospitals to better anticipate and manage surgical costs and patient outcomes.
The MAST platform from Medtel.com automates the surgical scheduling process between the healthcare provider and vendor in real-time so that the whole surgical team can monitor the procedure and keep apprised of updates through a single dashboard. Hospital staff, including materials managers and OR nurses, affiliated practices (surgeons), and participating medical device reps now have an efficient and convenient way to view and relay information about specific surgical cases prior to, during, and after the procedure. Medtel.com's implant tracking and confirmation platform complements existing hospital EMR, perioperative, and OR management software without any costly integration.
About Medtel.com
Medtel.com is a healthcare vendor relationship management (VRM) system that provides an intuitive medical device and pharmaceutical sales rep search with direct, HIPAA compliant messaging. In addition, Medtel provides scheduling and confirmation solutions through its MAST platform to help hospitals, affiliated offices, doctors, nurses, surgical schedulers and materials managers constructively engage with medical device and pharmaceutical sales professionals. Medtel.com Inc. is a privately held healthcare startup based in New York City.