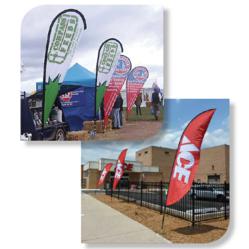 Feather banners produced by ePrint123.com are cost effective and get the job done... These attention grabbing signs feature vibrant graphics, are easy to carry, and can be set up by one person in minutes without requiring any tools.

Chicago, IL (PRWEB) April 29, 2013
Retailers around the world are always looking for innovative display graphics that stand out from the crowd, grab attention, and direct traffic to their store. The feather banner has been gaining momentum in recent years, and ePrint123.com offers a cost effective solution in both single- and double-sided configurations, and available in three different sizes up to 16ft high.
Also known as the flying banner, teardrop banner, or sidewalk banner, the feather banner is one of the most versatile solutions in outdoor advertising. It typically consists of a ground stake, a full color printed graphic, a spring tension pole, and a carrying case. While this general bundle is available from many sources, ePrint123's feather banners are head-and-shoulder above the competition in a few ways:
Turn-key Display Solution
ePrint123's feather banner is available in three different widths, 31.5", 35.5", and 39.5", all with a 83.25" display height. Multiple units can be placed side-by-side to form a portable display wall. It comes loaded with a custom printed graphic, a padded carrying case with shoulder strap, and an outside shipping carton. ePrint123 also goes the extra mile of labeling each layer of packaging with a miniature graphic for easy identification.
Available as Single- or Double-Sided
Most flying banners on the road are single-sided. Sure, the second side is visible via the natural bleed-through of the fabric material, but it's a mirror images of the front and requires some guess work to figure out what it says. ePrint123's double-sided solution uses two separate printed graphics, stitched back-to-side with a block-out layer in between, for a true double-sided banner that reads correctly from either side.
Quality Hardware Construction
Many cheap stands are made with a plastic stake to save cost. Because a plastic stake is not nearly as stable as metal, they often cause the banner to fall over in the wind, ruining the image a business is trying to project. ePrint123's stands are made of super strong steel, providing a solid foundation for the flying banner for years of use.
Thin, Flexible, and Durable Polyester Fabric
A banner with shredded edges is probably the last thing an advertiser wants. Cheap banners try to save money by using super lightweight material that wears out quickly in the blowing wind. ePrint123 uses a high quality polyester fabric that's proven to withstand the elements, and the bright white print surface enhances the resolution and color vibrancy of printed graphics.
High-End Printing Equipment
Many sign shops get by with low-cost printers using cheap after-market inks. The problem is the banner looks OK on day one, but quickly deteriorates in the rain. ePrint123's feather banners are printed on 10-foot wide industrial printers using the best dye-sub inks, and will not run when wet.
An Advanced RIP is The Heart of A Digital Workflow
Another key component of the workflow is the RIP, which is responsible for translating computer graphics into dots on paper. The RIP technology is critical for translating page elements accurately and consistently, ensure color accuracy, manage color calibration, and defining the precise dot pattern a press lays down. While the entire sign industry standardized on Onyx Postershop/Productionhouse developed in the 1990s, Sunrise uses the latest Adobe PDF based print engine called Onyx Thrive. This next-generation RIP features a much more robust interpreter that can successfully interpret the latest PDF specification, such as drop shadow, live transparency, spot color gradients, overprints, etc.
G7 Qualified Master Printer
Qualified G7 Master Printers use the most modern technology, techniques, proofing and press controls and standards required to produce a close visual match from proof to print. Less than 1% of printers in the US have this certification. Being a G7 Qualified Master Printer, Sunrise adheres to the highest standards in color accuracy and consistency. Presses are calibrated daily, sometimes multiple times a day, using digital spectrophotometers to ensure the most consistent colors. And because the company employs an all digital workflow, setup costs are minimal, lowering the cost for clients.
"Feather banners produced by ePrint123.com are among the very best in the industry..." says Jimmy Sun, the company president. "These attention grabbing signs feature vibrant graphics, are easy to carry, and can be set up by one person in minutes without requiring any tools."
The Feather Banner can be purchased from the company's web store at ePrint123.com. Pricing starts at around $242 and goes down to less than $220 for bulk orders.
About ePrint123.com
ePrint123.com is powered by Sunrise Digital, an Inc. 5000 company established in 1988 that employs the most advanced equipment and technology, such as G7-certified HP Indigo and UV flatbed presses, laser engraving, and digital die-cutting, to create best-in-class color printing, short-run packaging, P.O.P. retail displays, and signage products. A privately-owned enterprise, the company is based in Chicago and sells products worldwide.