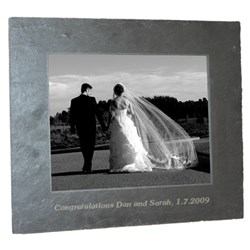 As gifts for the Bride and Groom, personalised photo frames are becoming increasingly popular due to the fact that each is completely unique.
(PRWEB) April 29, 2013
Wedding gifts have always historically held a personal element, being a way for family and friends to demonstrate good wishes and provide a keepsake which will be treasured. It can be difficult to know what to give a newly married couple, especially since most brides and grooms already have a house together with all that it entails long before walking down the aisle. One fail-safe way of expressing desired sentiments and giving a couple something useful is to gift a personalised photo frame.
Contemporary Heaven has a wide range of photo frames which are available for customisation using laser engraving. The message engraved onto the frame serves as a reminder of the happy occasion for years to come and additionally, photos from the wedding day can be displayed in the frame for a beautiful memory of an important day. Personalised photo frames are available for any budget, from a solid oak photo frame at £14.95 to a substantial real slate wall frame at £64.95. All prices include the personalisation fee so it is easy to see how much this sentimental gift will cost.
As gifts for the Bride and Groom, personalised photo frames are becoming increasingly popular due to the fact that each is completely unique. But they are also useful for other wedding gifts, like the thank you to bridesmaids, parents and the Best Man. Opting for this alternative thank you gift allows for the individual's names to be added for a more thoughtful and touching present.
Many stylish frames are available for customisation at Contemporary Heaven, including wood frames, glass frames and real natural slate frames. Real slate photo frames are a luxury choice for a spectacular gift and are available in various sizes and also in single, triple or quadruple aperture versions. A good choice for wedding gifts, there are also White Sequence Photo Frames from Umbra which have wooden construction with a white lacquer finish and chrome trim.
Contemporary Heaven also offers this personalised engraving on other products and gives a standard choice of three fonts. Other readily available fonts can also be used upon request if that particular style of type seems perfect for the job. Of course, personalised photo frames have many more uses, especially as gifts. Any special occasion can be remembered with a personalised frame, including milestone birthdays, anniversaries, graduations, engagements or births.
About the Company
Contemporary Heaven is a Hertfordshire based retailer and manufacturer with online outlets in the UK, Holland, France, Germany, Poland and the US. They are a subsidiary of Roco Verre LTD which has been in existence for more than 15 years, supplying a range of home accessories to retailers, businesses and individuals. Their range of home accessories includes modern clocks, custom time zone clocks, personalised school clocks, coasters and placemats, unusual wall mirrors, storage solutions, contemporary lighting, bathroom accessories, barware and much more.
For more information, visit http://www.contemporaryheaven.co.uk/.
Contact Details:
Roco Verre Ltd
Contemporary Heaven Division
68 Wilbury Way
Hitchin
Herts
Ph.: 44 (0)1462 451199