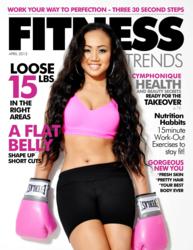 If you like Beyonce and Rihanna, you will love Cymphonique. We haven't seen such extraordinarily, diverse talent in a long time. Not only is she a top vocalist, she's also a superb actress.
(PRWEB) April 27, 2013
The beautiful 18-year old Cymphonique Miller is Fitness Trends Magazine cover story for April 2013. Her work ethic and dedication has lead her to a successful career in the entertainment business as she maintains a healthy and fit lifestyle. Fitness Trends' mission is to innovate and inspire people to follow their dreams and improve their lives to reach their highest potential. Therefore, Cymphonique is the perfect advocate for our readers as she sits down for an intimate interview with Chief Editor, Robert Barnes.
She is one of the most talented influential young entertainers on the planet. With all the fame and her accomplishments, she remains humble and sweet in her intimate interview. The Los Angeles native opens up about her strong family values, her passion for helping others, and her work ethic. She shares her secrets on how she manages her busy schedule and maintains a healthy lifestyle to keep her body strong & fit. If you like Beyonce and Rihanna, you will love Cymphonique. We haven't seen such extraordinarily, diverse talent in a long time. Not only is she a top vocalist, she's also a superb actress. For more information, go to http://www.FitnessTrendsMag.com