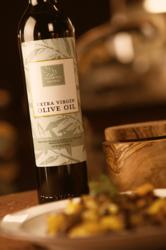 Ascolano oil is always cherished amongst EVOO lovers for its delicate fruity flavor. This oil does not let anyone down with delicious hints of peach and overtones of cut grass.
Santa Ynez, CA (PRWEB) April 30, 2013
The Olive Oil Source, the industry leader in olive oil-related products, today introduced an Ascolano single varietal extra virgin olive oil grown and processed in California, available on their Wholesale (http://wholesale.oliveoilsource.com/content/ascolano-extra-virgin-olive-oil) and Boutique (http://boutique.oliveoilsource.com/content/olive-oil-source-ascolano-extra-virgin-olive-oil-0) websites. The new Ascolano varietal is available in a full variety of sizes from 2-ounce samples to full gallon options and adds to the extensive line of industry, home, kitchen, lifestyle and beauty products now available on The Olive Oil Source websites.
The newly featured product:

This Ascolano extra virgin olive oil comes from Tehama county in northern California. The fruit is hand harvested and milled the same day to ensure the highest quality and freshest taste. Known for its delicate and fruity flavor, this is a truly versatile extra virgin olive oil varietal. It will complement any entrée or salad or can be used as the perfect mild baking ingredient.
The new product is the latest addition to a full range of olive oil-related products from The Olive Oil Source, including a full range of more than 115 blends and flavors of high quality, authentic olive oil and vinegar and a full line of lifestyle products for the home. Since 1998, the company has been internationally recognized as the premiere source for the highest quality products in the olive oil industry.
"Ascolano oil is always cherished amongst EVOO lovers for its delicate fruity flavor. This oil does not let anyone down with delicious hints of peach and overtones of cut grass," said Antoinette Addison, Vice President, The Olive Oil Source.
LATEST ADDITION TO THE WHOLESALE PRIVATE LABEL PROGRAM
The new product is also the latest addition to the company's simplified wholesale private label shiner program, designed to provide specialty food retailers and marketers with immediate availability of a full range of oils and vinegars and rapid turn-around production.
At the foundation of the program is the ability to create custom "shiners", or unbranded bottles of olive oil or vinegar through a simplified online process. Similar to the wine industry's approach to bottling wine for later rebranding, the new program includes more than 110 olive oils and vinegars to choose from. A wide variety of bottle styles and sizes provide complete flexibility to the customer. Online pricing and ordering make this an industry exclusive, bypassing the typical "call us for more information" sites that hint at the service without providing detailed information upfront.
Another significant advantage of the program is its low minimum case requirements, allowing customers to conduct their own in-store tests with flavor and sizing options. The program presents a perfect opportunity for olive oil tasting bar entrepreneurs and specialty food store owners to fine-tune their own product offerings to fill in the product line gaps or present a cost-effective self-branded option to their customers.
ABOUT THE OLIVE OIL SOURCE
The Olive Oil Source is internationally recognized as the most comprehensive resource for olive oil-related products and information about olive oil. Producers seeking information on the latest commercial equipment, retailers looking to source extra virgin olive oil products, and consumers interested in learning answers to simple questions like "what is olive oil?" as well as detailed information about health and beauty trends in extra virgin olive oil will find "Everything but the Olive" at The Olive Oil Source.
Founded in 1998, The Olive Oil Source is owned and operated by Shawn and Antoinette Addison who have graduate education degrees in agricultural sciences and economics from Ecole Nationale d'Agronomie in France and from Stanford University and manage their own organic olive orchard in the Santa Ynez valley of California. They are among a select group of industry experts able to provide customers with information and products based on both current research and field experience. For more information about The Olive Oil Source, visit us at oliveoilsource.com.