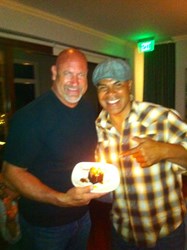 San Diego, CA (PRWEB) April 27, 2013
Mark Walczak and David Gergen met NFL Hall of Fame CB Mike Haynes for a business lunch to discuss ways they can help former players and spread sleep apnea awareness. Mike Haynes is extremely respected around the league and is very active in helping former players with health concerns.
While saving lives throughout California communities, he is also honoring the life of a loved one this week. Mark Walczak scheduled a meeting with friends and family of Junior Seau at Dino's which was a frequent establishment for them in the past. Mark believes Seau is still influencing him in a positive way.
Mark is one of the most popular players among the guys from the NFLPA Phoenix, AZ Chapter and is liked by everyone he comes in contact with. Since meeting David Gergen, they have become very good friends. They are such good friends, Mark is a daily influence in the lives of Gergen's children and spends time bonding with them every week. He calls Charlie and Jack Gergen "his sidekicks". Along with his beloved dogs, Willey and Waylen, the Gergen children are like family to him.
Gergen says, "The NFL greats have been a huge support in the mission to get former players and the public diagnosed and ultimately treated for sleep apnea". "Spreading awareness at these events and screenings and through radio and television has been wonderful. I believe by spreading awareness we can save lives".
Mark will be back in town with Pro Player Health Alliance on May 21 to "Tackle Sleep Apnea" at an event in San Diego. Registration for the event is free and open to the public.
Event Details
Event Details:
Date: May 21, 2013
Time: 7:00 PM
Location: Scripps Schaetzel Center, 9890 Genesse Ave La Jolla, CA
About Pro Player Health Alliance
The Pro Players Health Alliance (PPHA) is an organization dedicated to helping former NFL players, through providing testing and treatment options for those who suffer from sleep apnea. In addition, the PPHA is dedicated to integrating education and raising sleep apnea awareness, in a fun and memorable way. In addition to the campaign, the PPHA is dedicated to testing and getting people treated who suffer from sleep apnea. The PPHA was created by David Gergen, President of Gergen's Orthodontic Lab and Former NFL legends.