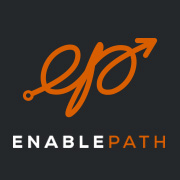 Congratulations! As a Gold Cloud Alliance partner, you're among an elite group of innovators working with the latest cloud technologies to transform all aspects of their customers' businesses.

SVP, Partners & Solutions
Salesforce.com
Charlotte, NC (PRWEB) April 29, 2013
EnablePath, LLC, a Salesforce.com Cloud Alliance Partner, is pleased to announce that it has achieved GOLD PARTNER status, a coveted position within the Salesforce.com partner community.
Named as Forbe's "Most Innovative Company in the World" for the second year in a row, Salesforce.com is the enterprise Customer Relationship Management (CRM) cloud computing leader. Based on Salesforce.com's real-time, multitenant architecture, the company's platform and apps give customers the tools to create a social front office and revolutionize the way they sell, service, market, collaborate, work, and innovate.
Of the hundreds of Salesforce.com implementation partners around the world, only a few have achieved Gold Partner status. This standing is attained through a proven combination of project experience, application expertise and certification, and consistently high customer satisfaction ratings that demonstrate an emphasis on quality effort and, most importantly, customer success. EnablePath CEO Ernie Riddle noted, "We are delighted to achieve Gold Cloud Alliance Partner status with Salesforce.com. It reflects our continued dedication to becoming a true Customer Company and to providing the industry's best Cloud Consulting Solutions to our clients."
EnablePath is a leading provider of Cloud based consulting services in the Southeast and has worked with hundreds of clients with industry specific solutions in over 2,000 unique CRM projects. Growing at an average rate of over 65% year over year since 2006, the company's recognition as a Gold Partner will drive continued ambitious plans for growth in 2013 and beyond.
About EnablePath, LLC
Founded in 2006, EnablePath is a Salesforce.com GOLD Cloud Alliance Partner with offices in Charlotte, Atlanta, Nashville, and Tampa, and is exclusively focused on the implementation of the salesforce.com suite of products and associated third party applications. This includes Cloud transition, business process and solution consulting - process integration - solution architecting and design - project planning and management - project execution – and end user training.
Since inception, EnablePath has engaged with 800+ customers to complete over 2,000 successful CRM projects. A solid team of certified delivery resources has helped EnablePath become one of the most frequently engaged Salesforce.com implementation partners.
For more information visit http://www.enablepath.com