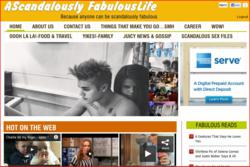 "To show our appreciation to our valued Scandalously Fabulous community, we reward users for actively participating on this site."
(PRWEB) April 30, 2013
A Scandalously Fabulous Life wants to help users take control of their online visibility and power by helping them avoid common mistakes, such as failure to have fun in posts, being afraid to use their outside voices in their posts, taking themselves and their posts way too seriously. The list is just too daunting and shan't go on.
CEO and Founder, N. Meridian writes, "to show our appreciation to our valued Scandalously Fabulous community we reward users for actively participating on this site. For instance, users are rewarded for posting great content, such as original videos and articles. They are rewarded for posting comments that add valuable feedback to the conversation on our site, or on our social media pages."
As if that weren't enough, "for liking our Facebook page or tweeting and re-sharing works posted on the site (things you do anyway) you may receive a token of appreciation," N. Meridian added. By taking advantage of the site's fabulous platform, users can share their experiences and help others in their personal journeys to live a scandalously fabulous life.
While users may not need expert advice on how to live their life, the least they can do is flaunt the life they're living. With that said, ASFL realizes that it can be disconcerting to let go and lighten up; especially when many have been forced to adhere to such rigid topics and standards in the past.
With that said, expert bloggers, freelancers, amateur video producers, etc., would benefit from the site's user-friendly platform meant to increase their visibility. So for those who indulge in a little bubbly after dealing with the kids, tell everyone about it. For those who think Helicopter or Free-Range refers to anything other than parenting styles, write about it.
For those who happen to have their own stylish tips on how to be fabulously styled without breaking the bank, from hair to sole, share this on the site! For Foodies who loves to travel and enjoys original food creations—without the eyeballs or brains included—now they know where to post.
Likewise, those with a scintillating—eh hem—romantic life that would make others just pout with jealousy, should feel free to please blab about their stomach-clinching, heart-racing, jaw-dropping details with other scandalous users.
For those convinced that somewhere along the way the children they birthed were taken over and possessed by…well, why go there? Bottom line, users can share, share, share their misery, share their happiness, share their recent insights, share their videos of crazy pranks, weird pets, drooling babies, and whatever gets them going.
The point is the SF community embraces the quirkier side of life.
About A Scandalously Fabulous Life:
A Scandalously Fabulous Life is a digital media company seeking to compel users to not just live life—they should indulge in it—because anyone can be scandalously fabulous. The site seek to inspire and enlighten users, compelling them to affect change in their lives when they find that they are unhappy with any aspect of it through witty, engaging and thought-provoking articles and video content.
No matter what people are going through, A Scandalously Fabulous Life hopes to help others live a scandalously fabulous life. You can visit us at http://www.ascandalouslyfabulouslife.com
A Scandalously Fabulous LifeTM is the property of Scandalously Fabulous Media, a private company.