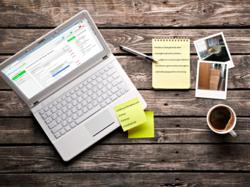 This new element is a giant leap forward in what InventoryBase can do. It takes into account a large amount of factors to produce the best person for a job, eliminating human error and the costs of arranging all the clerks manually
Portsmouth, Hampshire (PRWEB UK) 30 April 2013
Letting agents and inventory clerks using InventoryBase, an online property inventory tool, can now save time and money by automatically selecting the most suitable person from their team to carry out a property inspection with the system's new management function.
This latest development of InventoryBase is so advanced that it can take into account a number of different factors about a company's workforce to find the best person for a job. The system uses intricate data to work out a list of the top ten most suitable people to work on a specific inventory.
InventoryBase creators Radweb are constantly improving and refining the system based on customer feedback and have designed and created the management function to make it a better experience for users.
Steve Rad, managing director at Radweb, said, "InventoryBase has been a huge success and is constantly evolving to meet customer needs. This new element is a giant leap forward in what InventoryBase can do. It takes into account a large amount of factors to produce the best person for a job, eliminating human error and the costs of arranging all the clerks manually."
He continued, "The algorithm we've developed takes into account a clerk's working hours, annual leave, proximity to a job and availability. It also divides jobs fairly between full-time staff, part-time staff and contractors, and it even has the ability to register if someone is close to a new job when they finish a previous job. "
InventoryBase has always been about solving problems and streamlining the inventory process. Designed as a complete solution, the software allows the user to create detailed inventories, check ins and check outs, including photos, in seconds. It also provides a booking system for clients and estate agents, assigns tasks to team members and produces reports that are fully customisable to include logos and any specific legal information.
InventoryBase is the ultimate online tool for letting agents creating property inventories. Launched last year InventoryBase has quickly become an industry favourite thanks to its intelligent interface and effortless usability.
Notes to editors:
http://www.inventorybase.com
http://www.radweb.co.uk
For further information please contact Steve Rad:
07719 532018
steve(at)radweb(dot)co(dot)uk
Portsmouth, UK Office:
+44 (0)33 33 444 505
12 Acorn Business Centre,
Northarbour Road,
Portsmouth,
PO6 3TH
Radweb is a leading e-Commerce and e-Marketing agency based in Hampshire that has been producing great looking, functional and engaging websites for over 10 years. In that time, they've grown from a small start-up of 2, to a respected full-service agency employing talented designers, programmers and marketing professionals.