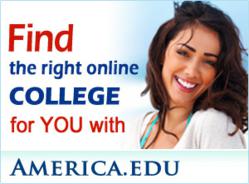 Education Tools @America.edu
(PRWEB) April 29, 2013
America.edu is an online resource for finding information on all aspects of American education. Now it is easy to find information on American universities, colleges and online institutions, all in one online location. It is important to do research before making a decision, as this choice will heavily impact on potential students' future life and career. Now, there is a resource with new and constantly updated information on American schools, universities and colleges, including the top Ivy League schools. Education is the one thing that one should be very careful with and any choices relating to it must be approached with preparation.
No more trouble selecting the right school
It is not easy to find a school that offers the best of American education. Some of the schools are not very well known or are too expensive for the average American. Other colleges and universities do not have the course of study that a student wants to pursue, while others are too far from home. America.edu brings all the information that one needs to know when it comes to selecting American schools, colleges and universities. There are reviews for different education institutions from experts and users alike to enable one make an informed choice.
In addition, if someone wants to attend school online, there is also information on these institutions. America.edu has all the information one will ever need on online schools and how to choose between them. Apart from this website being vast, it is always being updated to ensure that people have the most recent information on American schools. When one is interested in information about a certain school all they have to do is visit this resource because this is where all this information will be found.
There is also a new and updated section with information about scholarships. Includinch are available and how to apply for a scholarship or grant.
Find information on all American educational institutions
The best university doesn't always mean it is the right one for a person. If one is looking for tips on how to find the right school, then there is no better place to visit than America.edu. If anyone is looking for school ranking information for a comparison with their school of choice, then this is the right website to visit. If one is looking to join one of the Ivy League schools and they need information about the schools, then all they have to do is visit this resource. Here the person will find the information and expert advice they need to help explore their options.
About America.edu
America.edu is an online resource dedicated to bringing people the information they need when they are looking to join a college or university. Parents get information they can use to choose a school for their kids. Picking the right college or university can be a daunting task with all the colleges and universities in America. That is why many people make use of the rankings, guides and reviews found on this website to help them make the right choice.