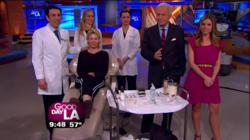 Los Angeles, CA (PRWEB) April 27, 2013
According to an April 26, 2013 Wall Street Journal report, bee venom is being touted as a key ingredient in a number of expensive moisturizers and anti-aging serums. Bee venom as an anti-aging ingredient got a boost in 2011 when it was revealed that Catherine, Duchess of Cambridge, had a bee venom facial mask prior to her wedding. (Go to: goo.gl/jDIhe).
"It's certainly premature to tout bee venom as a 'topical, natural alternative to Botox' as the maker of one product does in the article," says Dr. Simon Ourian, Medical Director of Epione Beverly Hills. "My thinking is more in line with the dermatologist quoted in the piece, bee venom, she says, is 'a new flavor of the month,' and I agree."
The thinking behind the effectiveness of bee venom, according to the article, is that the body, believing it's been stung, sends signals to the skin to heal itself. Blood then rushes to the area and triggers an increase of collagen production that tightens the skin and smooths out wrinkles.
According to the article, the high cost of bee venom products can be attributed to the difficulty of collecting the venom. When collecting for commercial purposes, bee keepers use a glass sheet embedded with low-voltage electrical wires to induce the bees to release some venom but still retain their stingers. The dried venom is then scraped from the glass.
"I don't really see bee venom as much more than a fad," says Dr. Ourian. "I am not planning to include it as an ingredient in my Signature Series line of skin care products."
Dr. Ourian has been a pioneer in laser technology and non-invasive aesthetic procedures including Restylane, Juvéderm, Radiesse and Sculptra. These treatments are used for the correction or reversal of a variety of conditions such as acne, acne scars, skin discoloration, wrinkles, stretch marks, varicose veins, cellulite, and others. More information about anti-aging treatments can be found on Epione's website.