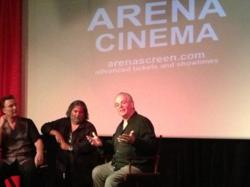 Our audiences are so grateful there is a new indie-film screen in Los Angeles. We're bucking the trend and it's working.
Los Angeles, CA (PRWEB) April 30, 2013
Arena Cinema is pleased to announce its upcoming May schedule of new film releases and exclusive Los Angeles engagements. The new independent film venue located in Hollywood powered by Voltaire Media will be presenting films from Phase 4, IFC, Breaking Glass Pictures.
Beginning May 10th, Arena screens "Assault on Wall Street" directed by Uwe Boll and starring Dominic Purcell with an all-star cast featuring John Heard, Eric Roberts and Keith David. Jim (Dominic Purcell) is an average New Yorker living a peaceful life with a well paying job, but when the economy crashes causing Jim to lose his job, home and wife, he snaps and goes to extreme lengths to seek revenge for the life taken from him.
On May 17th, Arena Cinema will exclusively screen the new IFC Film action thriller "Java Heat" starring Kellen Lutz (currently starring-in and shooting "Hercules") and Mickey Rourke in an exciting action-thriller shot entirely in Indonesia. A mysterious American (Kellen Lutz) teams with a Muslim cop to hunt down a dangerous international jewel thief (Mickey Rourke) who kidnaps a Sultan's daughter in a plot to steal the royal treasury: exotic intrigue amid ancient palaces, mosques, temples, subterranean labyrinths and stone pyramids in the heart of Java. "Java Heat" runs exclusively at Arena Cinema May 17th-May 30th.
On May 31st, from Breaking Glass Pictures comes George Griffith's "From the Head," featuring a great ensemble cast with Matthew Lillard ("The Descendants"), Jon Polito ("Gangster Squad") Based on Griffith's real-life experiences and shot entirely in a strip-club bathroom, this semi-autobiographical tale explores the dysfunctional assemblage that populates the strip scene and their affect on the psyche of its resident bathroom attendant.
"Our audiences are so grateful there is another screen in Los Angeles showcasing new indie films," said Christian Meoli of Voltaire Media, which operates Arena. "LA is the cinephile capital of the world. We're excited to be working with IFC, Phase 4 and Breaking Glass on these great, new films."
About Arena Cinema
Arena Cinema showcases the best in Independent Film, the hard-to-find indie gems LA cinephiles search for and yearn to see that aren't getting the big screen love anywhere else! Formally a part of the historic Egyptian theater in the 1970s and 1980s when the venue was known to Los Angeles moviegoers as Egyptian 2 and 3, now it is an independent endeavor operated by Christian Meoli and Voltaire Media.
About Voltaire Media
Voltaire Media is a full service media company that specializes in Entertainment and Media Services in Los Angeles and nationwide. Our focus is on digital marketing strategy, brand identity development, corporate design, social media, strategic marketing concepts, SEO analysis, traffic acquisition, for clients in film, theatre, music, photography and television entertainment. We also procure and negotiate distribution and licensing in all platforms for completed films. We create strategic media campaigns, digital media planning, community relations and brand management, online reputation management, social network marketing, social media, content syndication, promotions, website consulting/content development and online marketing.