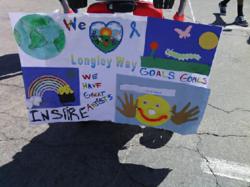 "Life has not been a picnic but it has paid off."
(PRWEB) April 29, 2013
Autism has been a dirty little secret in society, quietly sneaking up in relevance. If you asked someone ten years ago about autism, few would know what it was and most would deny knowing anyone effected with the disorder. Today, still many go undiagnosed and categorized as misbehaved, disobedient or just odd. Autism, a disorder characterized by impaired social interaction and repetitive behavior, effects one in 88 children worldwide. This number has been increasing dramatically since the 1980s and there is still so much mystery behind the cause. In order to highlight the growing need for concern and awareness about autism, the Autism Society has been celebrating National Autism Awareness Month since the 1970s. The United States recognizes April as a special opportunity for everyone to educate the public about Autism and issues within its Autism community.
Maxim Lighting has joined in the fight. Partnering with Elite Fixtures for the month of April, Maxim Lighting will donate $5 of every purchase, as well as give a 15% discount to the customer so that they will be more inclined to donate.
Maxim Lighting has a special place in their heart for fighting autism. Autism has affected a member of the Maxim team. After announcing their promotion to donate to Autism Speaks April, an employee spoke up about her own fight to support autism. April, whose grandson had developed the disorder, was overwhelmed with gratitude and began explaining her story.
When her grandson was almost two years old, he would not make any sounds let alone talk. She believed that he was simply a late bloomer or at worse deaf. She took her grandson to doctors and all they ruled out was that he was not hearing impaired. Her grandson's development seemed to be on pause, but with no diagnoses she was convinced "he was just being a brat and one day he would snap out of it." After some time the boy's behavior did not improve; something did not seem right. She needed another opinion. It was not until his new pediatrician diagnosed him with Autism and sent him to a specialist that they really understood what they were dealing with. "We would have never known if it wasn't for his doctor recognizing the signs," she declares. "Once they knew what he had, they were able to treat him."
"Life has not been a picnic but it has paid off," April stated about her grandson. "Now my grandson is five and I just heard his first word, I almost cried." She describes that through intense therapy as well as government assistance her grandson is better adapted to society. He goes to a special program in the public school system and "the government sends this trained behavioral specialist from the Resource Center to come to the house to both reinforce the training and help the family cope with the their concerns. "At five years old, I can finally say he is potty trained."
April stresses the need to educate. She explained that most people do not even know their kid has a problem let alone that there are programs out there to help.
It is people like April that inspires Maxim Lighting and Elite Fixtures to fight harder to raise money. With their generosity, Autism Speaks is better able to sponsor seminars throughout Southern California, providing desperately needed assistance in the form of community support, educational services and monetary compensation. The organization creates specialized services, many of which are free. Autism Speaks gives parents and child alike a route to a better future.
How can you help? By purchasing ANY Maxim Lighting fixture from EliteFixtures.com. Not only will you receive 15% off but a $5 donation will be made to Autism Speaks too. This is truly a win-win.