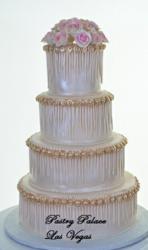 Got Cake?
Las Vegas, Nevada (PRWEB) April 27, 2013
The Las Vegas Pastry Palace recently made the announcement that it is offering private 1-on-1 cake decorating lessons for anyone who is interested in learning the craft or honing their existing skills. These classes range from basic cake-decorating skills upon which all other cake design techniques are built to more advanced ones at the higher level of expertise.
Thoroughly intrigued with the ability to create masterful pieces of sugar artistry, the owners of the bakery have designed a full range of decorating classes for individuals interested in this craft. They believe that "Everyone should indulge in the delightful enjoyment that can be had from designing a unique pastry creation using sugar artistry from basic piping skills to advanced flower making."
Each 1-on-1 class is tailored to the skill level of the participant, providing the best opportunity for success. From airbrushing techniques to piping to cake sculpturing, the classes are styled to teach each student the skills needed to advance in the unique talents of the cake decorating craft.
Every student receives an individualized level of attention from the master baker through the private 1-on-1 classes that promote quicker learning. The classes are held at the bakery's address at 4523 West Sahara Avenue in Las Vegas. Best of all, the fee is exactly the same as anyone would pay to join a group lesson, providing an invaluable opportunity to learn the craft of cake decorating at a reasonable cost.
Las Vegas Pastry Palace, a family-owned bakery, specializes in the creation of one-of-a-kind wedding cakes, cupcakes, pastries, and baked goods crafted from scratch without artificial preservatives. The master decorators also provide tailored cake decorating classes that deliver a high level of experiential learning in order to bring the unique skills of sugar artistry to beginners as well as to enable higher-level bakers to enhance their existing abilities. Their local reputation as a superior bakery is recognized by many Las Vegas residents.
Pastry Palace
4523 West Sahara Avenue
Las Vegas, NV 89102
info(at)PastryPalaceLV(dot)com
702.251.1555
Pastrypalacelv.com
###