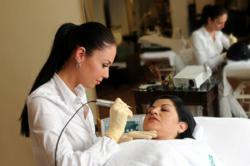 ...by focusing on developing pre-drawing make-up skills and stringent hygiene codes, we are a cut above in client results and safety.
Beverly Hills, CA (PRWEB) April 29, 2013
A growing trend in permanent cosmetics has been seen as the industry becomes developed and aware to the public. Semi permanent make-up can be a great addition to existing salon or plastic surgeon services, and can be an income booster for individuals interested in the art. Working as a professional semi permanent make-up artist is a rewarding career and with the increasing interest, technicians should seek the best available for their clients.
"Our method is different from conventional permanent make-up training," Michelle Park, Long-Time-Liner®'s Master Linergist® and Head Trainer in North America, explains, "by focusing on developing pre-drawing make-up skills and stringent hygiene codes, we are a cut above in client results and safety." Michelle's philosophy is to transform clients' doubts in their appearance and enhance own features to bring the finest customized look. With Long-Time-Liner®, it is not about making someone look like someone else. "It looks fake and false." Michelle adds in.
As a seasoned veteran with 13 years of experience with semi permanent make-up under her belt, Michelle Park's salon in Beverly Hills offers services to celebrities, medical patients, and working-class individuals who want to appear their best, naturally. "Our goal is natural, bare-faced, but with definition to correct any shape or pigmentation problems the client might have." Hannah Smith, one of the Elite Linergists® at the Beverly Hills location, describes the service as, "It's supposed to be a starting base. The client can then choose whether or not to dress it up and that's why ours is the best and popular choice if you want natural."
Registration for Long-Time-Liner®'s semi permanent make-up courses begins this May 1st, 2013. Courses start June 17th, concluding on June 29th, 2013. Training seminars range from 5 to 10 days depending on the student's familiarity with permanent cosmetics. Registration with full course payment ends May 20th.
Courses fees range from $3200 USD (5 days) to $4900 USD (10 days). Students then may purchase starter machine kits which include the Long-Time-Liner® Conture DUO® device, a carrying case, disposable single-use needles, assorted Long-Time-Liner® pigments, and hygiene/sterilization products. They come in two varieties: 1 handpiece ($8,500 USD) or 2 handpieces ($10,800 USD). After completing the courses, technicians may price their services accordingly to their skill level; and an accomplished Long-Time-Liner® Linergist® may earn up to $15,000 USD per month.
The courses strengthen core make-up drawing skills, dermatology, sanitation and hygiene standards, as well as practical application of Conture® make-up. Students are supervised by the training team in Beverly Hills and classes are small in size to ensure each student is properly overviewed and supported.
The quality of the device, pigments, and certified training make the noticeable difference between Long-Time-Liner® semi permanent make-up training courses and other varieties. Our device, the Conture® Duo, highlights quiet work due to our stroke magnets rather than a loud motor, enabling technicians to work quietly, leading to a more relaxing experience for clients. The machine has calibrated settings for each facial area and type of pigmentation, which controls speed and ink flow.
Long-Time-Liner® pigments have been heralded for having the widest range of shades that flatteringly match numerous natural eyebrow and lip tones as well as provide fashionable colors. The pigments are sterile, antibacterial, contain no heavy metals, are derived from natural mineral origins, and are hypoallergenic. No side effects have been found in our pigments since our company's inception in Munich, Germany 25 years ago.
Moreover, all Long-Time-Liner® training textbooks have been certified professional by eduQua, a Swiss-based company based on adult education review and reformation in quality management.
Long-Time-Liner® provides continuing education for its technicians who want to upgrade their skills and add more to their service repertoire. Technicians are eligible for Elite training 3 months after their basic cosmetic training and will learn camouflage pigmentation. Only after Elite training will technicians be able to take Long-Time-Liner®'s esteemed Medical Course.
By the end of the training, students will be comfortable in their abilities and will have the center in Beverly Hills for tech and client help. Long-Time-Liner® is dedicated to serving our clients and maintaining a thriving community of technicians. No Linergist® is alone! For more information about the training courses, please contact Long-Time-Line® Beverly Hills at info(at)longtimeliner(dot)com.
Long-Time-Liner® is located in Beverly Hills California, at the heart of the beauty and luxury product center. There have been many beautiful and satisfied customers from all age groups, nationalities and personal style. Semi-Permanent Conture® Make-up can make a significant improvement to anyone's beauty. Contact the salon for more information and to book a consultation!