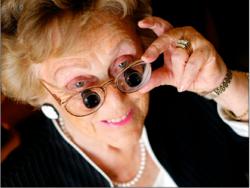 Patients with Macular Degeneration can experience restored eyesight with special glasses.
Corona, CA (PRWEB) April 29, 2013
An increasing number of Americans suffer from profound vision loss in their eyes that leave them unable to do the every day things they enjoy. Thanks to a new technology and a group of specially trained optometrists, patients with Macular Degeneration, Diabetic Retinopathy, Retinitis Pigmentosa, Stargart's Disease and Albinism can experience restored eyesight with special glasses.
Macular Degeneration is generally associated with aging and results in damaging sharp and central vision. Retinitis Pigmentosa is a progressive, genetic disease that starts with difficulty seeing at night, advances to tunnel vision and could end with complete blindness, though not always. Ocular albinism is an inherited condition in which the eyes lack melanin pigment, causing various vision problems including reduced vision.
These vision-limiting conditions are all inoperable, but highly trained, low vision optometrists can help patients function visually again with the help of technology. Low vision optometrists, such as those trained by the International Academy of Low Vision Specialists (IALVS) are interested in two things: how much vision the patient has left, and what tasks the patient wants to do. While there is no cure, the low vision optometrists attempt to find solutions through technology.
"Most patients have been told nothing more can be done to improve the quality of their life, and that is simply not true," says Dr. Richard J. Shuldiner, optometrist and founder of IALVS. "Our job as a low vision doctor is to figure out everything and anything possible to help the patient function visually."
"We are using a variety of new technologies including miniature telescopes, e-scoop glasses and implantable telescopes," says Shuldiner.
Miniature Telescopes can be designed for tasks requiring better central vision and mobility. These glasses are used by drivers to see signs and traffic lights, by grandparents to see grandchildren playing soccer, and by bridge players to see cards on the table.
Implantable Miniature Telescopes involve a cataract implant that is surgically placed in one eye to magnify distance images.
E-Scoop Contrast Enhancing Glasses are a new technology from Holland and combine five special optical elements that create a larger, clearer, higher contrast image.
If you or someone you love suffers from vision loss, consider seeking a low vision eye doctor for a second opinion. They will do a comprehensive low vision exam and discuss the latest technologies to see what is right for you. To find a low vision specialist, visit http://www.LowVisionEyeDoctors.com