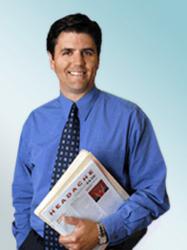 We want 2013 to be the year we raise awareness of sleep disorder breathing to the community of women and men
San Diego, CA (PRWEB) April 28, 2013
Pro Player Health Alliance and Dr. Bradley Eli prepare for upcoming free public "Tackling Sleep Apnea" event at Scripps Schaetzel Center in La Jolla, CA. Part of the "Tackle Sleep Apnea" campaign is traveling across the country to promote sleep apnea awareness.
Former San Diego Chargers player and Pro Player Health Alliance member Mark Walczak, "My mission is to spread awareness by hosting these events. I want to get all current and former NFL players screened for this condition as well as those in the public communities throughout the country".
The public awareness event at Scripps Schaetzel Center this May will be hosted by one of the country's most experienced and well-known doctors, Dr. Bradley Eli. By providing all solutions to sufferers of sleep apnea that are available on the market, Dr. Eli will find a way to treat any patient even if it means creating a new appliance. Dr. Eli: "We want 2013 to be the year we raise awareness of sleep disorder breathing to the community of women and men."
Many people are unaware that they need to seek treatment as it has become customary for individuals to feel tired throughout the entire day. This is due to the stress put on the body from not being able to breathe for up to 10-15 times per hour while asleep. Dr. Eli has trademarked the acronym, A.R.T., which stands for "Apnea Reality Test". The Apnea Reality Test is used to educate people in a simple fashion as to what happens to them during the night when they experience apneic events. Dr. Eli asks the patient to exhale completely then wait thirty seconds to take a breath. He states, "Most people believe apneic events consist of holding their breath for thirty seconds; this isn't always the case. A lot of times, the patient will stop breathing after they have exhaled and this happens multiple times during the night". He says, "It's like someone takes your breath away without warning".
While most sleep doctors specialize in one therapeutic approach, Dr. Eli has developed a sleep management system that puts the patient's needs, rather than the doctor's specialty, at the forefront. Dr. Eli and his patients discuss a variety of sleep treatment options to help assure each patient is matched to the most effective therapy.This initial approach combined with a quality management plan allows Dr. Eli to achieve a significantly higher rate of treatment compliance among his sleep patients, thereby reducing their risk of stroke, heart attack, and other sleep-related risks.
Come meet NFL greats and educate yourself on the deadly disease that is Sleep Apnea by registering for this free event; it may save your life.
Event Details
Date: May 21, 2013
Time: 7:00 PM
Location: Scripps Schaetzel Center, 9890 Genesse Ave La Jolla, CA
About Pro Player Health Alliance
The Pro Players Health Alliance (PPHA) is an organization dedicated to helping former NFL players, through providing testing and treatment options for those who suffer from sleep apnea. In addition, the PPHA is dedicated to integrating education and raising sleep apnea awareness, in a fun and memorable way. In addition to the campaign, the PPHA is dedicated to testing and getting people treated who suffer from sleep apnea. The PPHA was created by David Gergen, President of Gergen's Orthodontic Lab, and Former NFL legends.