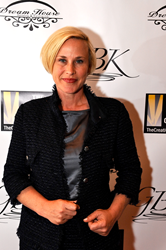 100% of GBK's profits from the Thank You Lounge will help the Creative Coalition in their effort to support the Arts.
Washington, D.C. (PRWEB) April 28, 2013
GBK (gbkproductions.com) and The Creative Coalition hosted a Thank You Lounge for celebrities on April 26 - 27 at the Loews Madison Hotel. Unlike your typical gift lounge, this lounge featured a unique charitable component. Attendees, who were gifted in the lounge, had the opportunity to donate their items to their charity of choice. 100% of GBK's profits from the Thank You Lounge will help the Creative Coalition in their effort to support the Arts.
For celebrity pictures, please click HERE.
The Creative Coalition is the premiere nonprofit, nonpartisan social and public advocacy organization of the arts and entertainment community. Founded in 1989 by prominent members of the creative community, The Creative Coalition is dedicated to educating, mobilizing, and activating its members on issues of public importance, primarily public education, the First Amendment, and arts advocacy. (http://www.TheCreativeCoalition.org)
Philanthropic by nature, GBK Productions paved the path for charitable gifting as Hollywood's first 'giving suite'. GBK is proud to announce its accomplishment in donating over two million dollars in Goods, Services and Cash to over 20 non-profit organizations over the last three years.
Attending Charities and Sponsors:
YES! Beat Liver Tumors, Made By Survivors, Dream House, Art of Horology, The St. Regis Bora, Bora Resort, Connecticut Cookie Company, Cork Wine Bar, EyeWalker Elements, Jorg Gray Timepieces, LovelinksAmerica, Renée by Renée, The Sweatshop Group LLC a.k.a The Sweatshop L.A and The Sweatshop, N.Y.C, Uber, Zoe's Chocolate Co.
GBK, formerly GBK Productions, founded in 2000 by Gavin B. Keilly, is an event productions company specializing in fundraising for major charitable organizations, celebrity events and upscale weddings. GBK Productions has helped non-profit clients raise millions of dollars and produces the most sought after gift lounges. GBK has been featured in People Magazine, US Weekly, InStyle, USA Today, Front Page of the New York Times and many others. Gavin is Pioneer if the 'Giving Back Suites' Headquartered in Hollywood, California, GBK Productions serves a variety of multinational charities and corporations throughout the world. For additional information about GBK Productions, please visit GBKProductions.com.
GBK is not affiliated with, endorsed, or sponsored by the White House, the White House Correspondents' Dinner, the White House Correspondents' Association or The Creative Coalition.