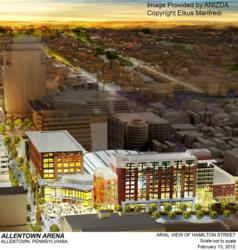 Denver, Pa. (PRWEB) April 28, 2013
High Concrete Group LLC is producing precast concrete components for an eight-story parking garage adjacent to the new PPL Center Arena in Allentown, Pa., the future home of the American Hockey League's Lehigh Valley Phantoms. The new parking garage will be 242,300 square feet and will accommodate visitors to the PPL Center, attending hockey games and other scheduled events. The overall project is scheduled for completion in late summer 2014.
High Concrete Group was awarded the $7 million contract by the construction manager, Alvin H Butz, located in Allentown. A total of 773 precast concrete pieces will be erected starting in June 2013. The project was designed by Sink Combs Dethlefs, a Denver, Co.-based architectural firm. Additional consulting services were proved by Martin/Martin Consulting Engineers located in Lakewood, Co.
The new arena and surrounding new development are expected to bring 1 to 2.5 million visitors to downtown Allentown each year, breathing new life and revenue into the city's economy. The parking structure will provide convenient parking on eight levels for visitors to the downtown area. The precast concrete will be produced at High Concrete Group's Denver, Pa. plant.
About High Concrete Group
Headquartered in Denver, Pa., and employing more than 400 co-workers, High Concrete Group has provided precast components for more than 5,000 projects since 1957 and is found on Engineering News Record's list of the Top 600 Specialty Contractors. High Concrete Group has production facilities in Denver, Pa. and Springboro, Oh. The company also operates High Concrete Accessories, a Denver, Pa.-based national precasting embedment supplier.