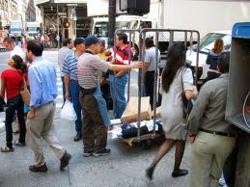 (PRWEB) April 27, 2013
Donny Lowy, the CEO of the Brooklyn clothing wholesaler Closeout Explosion, has released an important new video titled, "Wholesale Buying Opportunities In The New York Fashion District." This business presentation offers important and useful information that pertains to the wholesale buying opportunities available in the New York Garment Center, which is centered in the area from 21st to 34th St, from 6th to 8th Ave. While many domestic and international based retailers are aware of the high concentration of wholesale showrooms in NYC, many still do not realize just how much merchandise is available, and at what savings compared to other wholesale channels. Even those who are aware of the potential for obtaining closeouts from Manhattan fashion showrooms might not be aware of how to successfully navigate this vast wholesale fashion source. For example, boutique owners from Nigeria will rely on other business owners to locate the best deals. But if their friends are unaware of a wholesale outlet, they will simply miss it on their visit to the Big Apple.
"As an experienced reseller who has participated in the retail and wholesale aspects of the closeout industry, and especially due to my proximity and dealings with jobbers, showrooms, and brokers, who are based in the New York Fashion District, I understand that discovering the best overstock deals requires knowing how to discover these liquidation deals, and then knowing how to negotiate the best possible prices. It is a shame to see retailers arrive from as far as Kenya, Guyana, and Brazil, only to wander the Garment District without any sense of direction. Through this video I have offered tips and ideas that everyone from retailers, wholesalers, importers, flea market vendors, and eBay sellers, can utilize to maximize their New York buying expeditions," said Donny Lowy, who supplies pallets of department store overstock and store return merchandise to resellers located as far as Nigeria, Trinidad, Australia, and New Zealand.
The video offers details on the different sources for wholesale merchandise in NYC, with an explanation of the type of offerings each supplier offers, including designer showrooms, wholesalers, closeout brokers, and jobbers. Each type of vendor has benefits for resellers in terms of the type of products that they can provide resellers with. Understanding the unique characteristics of each one can help resellers make better informed wholesale purchases.
"Whether you primarily use websites such as WholesaleCentral.com, CloseoutCentral.com, or Liquidation.com, for your buying needs, or purchase from local clothing and footwear distributors, visiting Manhattan showrooms can do wonders for your business. When they say that who you know is important, this concept can definitely be seen in the closeout business, where knowing where and how to purchase overstock deals is a crucial component of every retail business," added Donny.