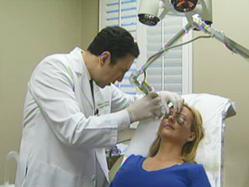 Los Angeles, California (PRWEB) April 28, 2013
According to a recent US News and World Report article, women have more options than ever to treat wrinkles and loose skin. The options run the gamut from over-the-counter retinoid lotions to Botox to laser skin resurfacing and surgery. (Go to goo.gl/OL3Wq).
"The report does a good job of providing an overview of the treatments currently available to aesthetic patients", says Dr. Simon Ourian, Medical Director of Epione Beverly Hills.
As described in the report, microdermabrasion treatments involve removing the top layer of skin. This stimulates new skin growth and yields a youthful appearance. Chemical peels use exfoliating techniques to promote the growth of new, healthy looking skin. The treatments come in various strengths, with light treatment results lasting for a month or so. The effects of stronger peels can last for years.
Other choices noted in the article to improve skin appearance include dermal fillers that are injected into the skin to plump it up. Botox and Dysport are highly popular injections that paralyze small muscles in the face to keep skin from wrinkling. These treatments may need to be repeated every three to six months.
Patients today have an impressive array of minimally invasive and surgical choices to improve the look of their aging skin. Those who have the means can undergo a wide variety of injections, treatments, and surgeries to reverse the visual signs of aging while those on a tighter budget can look to peptide and retinoid preparations.
"I agree with the old adage 'an ounce of prevention is worth a pound of cure'", says Dr. Ourian. "As the report recommends on the final page, wear sunscreen every day to prevent further skin damage."
Dr. Ourian has been a pioneer in laser technology and non-invasive aesthetic procedures including Restylane, Juvéderm, Radiesse and Sculptra. These treatments are used for the correction or reversal of a variety of conditions such as acne, acne scars, skin discoloration, wrinkles, stretch marks, varicose veins, cellulite, and others. More information about reversing the visual signs of aging can be found on Epione's website.