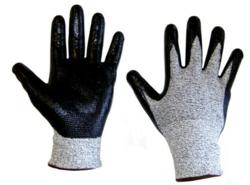 London, United Kingdom (PRWEB) April 30, 2013
The construction industry is a prime example of a sector wherein health and safety takes priority. However, a number of recent reports have suggested that health and safety measures on construction sites around the UK are below par. The team at The Glove Club has launched a range of products to help those in charge bring changes into effect.
A report in The Wiltshire Gazette and Herald reveals that a third of construction sites across the regions of Wiltshire, Avon, Somerset and Gloucestershire were found to have serious enough shortcomings in the field of health and safety to fail visitor inspections.
The national Health and Safety Executive (HSE) is currently aiming to reduce instances of injury, ill-health and death associated with the construction industry and has sent inspectors to assess standards all over the UK. Unfortunately, the problem in the South West is mirrored elsewhere.
The HSE website suggests that almost a third of construction sites visited in Wales failed inspections, with 69 of 224 sites coming up short with regard to the very minimum legal expectations in the industry. The negative results of the inspections in different areas of the UK point to a very serious problem that needs to be addressed.
The team at The Glove Club aims to support the construction industry in its efforts to improve health and safety standards so that they meet the legal requirements. As such, the company has launched a wide selection of industrial gloves to complement the range of medical grade nitrile and latex gloves it already supplies.
Excellent safety standards are just as necessary in industrial environments as they are in the medical sector, which is why The Glove Club team is keen to provide some of the fundamental accessories that contribute to a better health and safety record. Improvement in the construction industry is essential for the reputation of those operating within the sector and for the safety and wellbeing of those professionals that work on construction sites around the UK.
About Glove Club Ltd
The Glove Club has been a manufacturer, wholesaler and distributor of medical grade disposable products since 1994. Its experience and expertise of supplying products to a wide range of customers makes it a cut above the rest. In its 18 extensive years of business they have been a leader in latex, nitrile and vinyl gloves, all made to a medical grade (AQL 1.5) and many everyday disposables like masks, paper towels and aprons. They supply to dental practices, nursing homes, funeral directors, veterinaries, hospitals, GP's and even the general public.
Users of disposable consumables can contact The Glove Club on 0500 456 832 or by accessing the new website at http://www.gloveclub.co.uk.
Manoj Parmar, Marketing Manager
Glove Club Ltd
+44 208 991 4303
http://www.gloveclub.co.uk