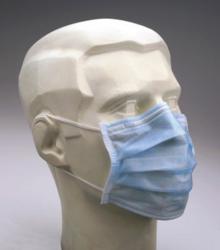 London, United Kingdom (PRWEB) April 30, 2013
The latest outbreak of bird flu in China has led to increased fears concerning the spread of viral infections. The team at hygiene product supplier The Glove Club is eager to point out that the use of medical grade hygiene products can help to control the spread of dangerous viral infections so that doctors and scientists can limit the damage they cause.
A report from news agency Reuters suggests that the death toll of the current outbreak of avian influenza is up to 16 as a new strain of the virus has developed and spread in parts of China. The H7N9 strain of the virus is a major cause for concern and government officials have expressed their belief that the number of reported cases is likely to rise.
As yet, the source of the latest infection is a mystery, but the biggest concern for scientists is controlling the outbreak. This is where the bird flu problem becomes a global concern rather than a national concern for China alone.
One of the measures that can be used to protect scientists, medical professionals and ultimately members of the public from airborne strains of the avian influenza virus is the use of face masks. This is why the team at The Glove Club has widened its range of medical grade face masks. The proper precautions are absolutely essential when it comes to managing the spread of potentially fatal infections.
The range of face masks available at The Glove Club is wide and varied in order to cater for the changing needs of medical institutions, laboratories and public spaces.
The Glove Club has almost 20 years' experience of manufacturing and supplying high quality medical grade hygiene products, including face masks, disposable gloves and protective wear. The company prides itself on its contribution to health and safety standards and infection control.
About Glove Club Ltd
The Glove Club has been a manufacturer, wholesaler and distributor of medical grade disposable products since 1994. Its experience and expertise of supplying products to a wide range of customers makes it a cut above the rest. In its 18 extensive years of business they have been a leader in latex, nitrile and vinyl gloves, all made to a medical grade (AQL 1.5) and many everyday disposables like masks, paper towels and aprons. They supply to dental practices, nursing homes, funeral directors, veterinaries, hospitals, GP's and even the general public.
Users of disposable consumables can contact The Glove Club on 0500 456 832 or by accessing the new website at http://www.gloveclub.co.uk.
Manoj Parmar, Marketing Manager
Glove Club Ltd
+44 208 991 4303
http://www.gloveclub.co.uk