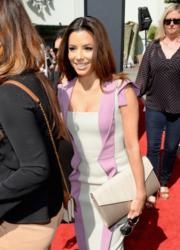 "Eva looked wonderful Saturday carrying the Russian Hill Clutch to Saturday's ceremony. We are so pleased to see her carry Jill Milan for so many public appearances."
SAN FRANCISCO (PRWEB) April 28, 2013
Jill Milan®, a provider of designer Italian handbags, today announced actress Eva Longoria carried the luxury brand's Russian Hill Clutch to a ceremony honoring Academy Award-winning actress Jane Fonda at the 2013 TCM Classic Film Festival Saturday. Ms. Fonda enshrined her hand- and footprints in concrete as part of the four-day film festival at the TCL Chinese Theatre in Los Angeles.
"Eva looked wonderful Saturday carrying the Russian Hill Clutch to Saturday's ceremony," said Jill Fraser, CEO of Jill Milan. "We are so pleased to see her carry Jill Milan for so many public appearances." Eva Longoria has carried Jill Milan handbags on several occasions, including to January's presidential inauguration, and she was one of the earliest Hollywood celebrities to carry Jill Milan when she carried the Art Deco Clutch to the "Desperate Housewives" wrap party last year.
The Russian Hill Clutch Ms. Longoria carried is an oversized clutch with a chain shoulder strap that tucks inside the bag. It is an elegant, classic bag roomy enough to carry all an evening's essentials.
Ms. Fraser was inspired to found Jill Milan when she was unable to find high-quality, luxury handbags that were not made of leather or other animal-based materials. She is a supporter of animal welfare initiatives, and as a former equestrian particularly supports charities that benefit horses.
The Jill Milan collection is made entirely in Italy, by Italian artisans using Italian materials. Features include hand stitching and metalwork handmade by craftsmen who create jewelry for Europe's leading luxury brands. All Jill Milan products are free of animal-based materials such as leather, fur and wool.
Celebrities who have carried Jill Milan on the red carpet include two of February's Academy Award recipients. Anne Hathaway, winner for Best Performance by an Actress in a Supporting Role, has carried Jill Milan to premieres in New York and London for her films "Les Miserables" and "The Dark Knight Rises." Jennifer Lawrence, winner for Best Performance by an Actress in a Leading Role, carried Jill Milan to events leading up to January's Golden Globe Awards. Other celebrities who have carried Jill Milan handbags for red-carpet appearances:

Actress Kerry Washington carried Jill Milan's Holland Park clutch for Berlin and London premieres of her film "Django Unchained."
Singer Carrie Underwood carried the Jill Milan Holland Park Clutch to the CMT Artists of the Year awards in December, and in November she attended the American Music Awards carrying the 450 Sutter Clutch.
Actress Rachel Nichols carried the 450 Sutter to the premiere of her movie "Alex Cross."
Isla Fisher, who appears in next month's "The Great Gatsby," carried the Jill Milan Art Deco Clutch to the New York premiere of her film "Rise of the Guardians."
Actress Stana Katic of television's "Castle" carried Jill Milan to the "Game of Thrones" premiere and to the 2013 Film Independent Spirit Awards in February.
Actress Fiona Gubelmann of television's "Wilfred" carried Jill Milan as a presenter at last month's Genesis Awards as well as to numerous premieres.
Countess Michelle Czernin von Chudenitz is seen frequently in red carpet appearances carrying Jill Milan evening clutches.
Actress Kristanna Loken, whose films include "Terminator 3: Rise of the Machines" and who has appeared on television's "Burn Notice" and "The L Word," carried Jill Milan to the 2013 FilmBall in Vienna, Austria.
Jill Milan handbags have drawn increased attention from influential fashion media. Bag Snob featured the Art Deco Clutch in a feature earlier this month, and online entertainment, fashion, and lifestyle news magazine Entertainista named the SoHo Carryall as one of its "Must Have Handbags for Spring." W Magazine featured the Holland Park Clutch in an issue last fall, highlighted the Art Deco Clutch in its "Most Wanted" feature and featured the 450 Sutter Clutch in one if its trends supplements. The Zoe Report recognized the Newbury Street Portfolio for its ability "to go from the office to cocktail hour." Wedding media publisher The Knot featured the Art Deco Clutch as part of a striking ensemble in a recent weddings magazine. Influential fashion blog Wendy's Lookbook featured photos of fashion writer Wendy Nguyen carrying the Art Deco Clutch on her trip to Florence, Italy.
About Jill Milan
Jill Milan is a provider of luxury Italian handbags and fashion accessories. Made of exquisite materials, Jill Milan products are crafted in Italy by artisans who have created handbags and accessories for some of Europe's best known fashion houses. All Jill Milan products are free of animal-derived materials, and the company contributes to animal-welfare organizations. Jill Milan is the only luxury handbag line entirely free of animal-derived materials which regularly appears on Hollywood's red carpets. Visit Jill Milan on the Web and follow Jill Milan on Facebook.
# # #
Jill Milan and the Jill Milan logo are registered trademarks of Jill Milan LLC, and are protected by trademark laws of the United States and other countries. Academy Award is a registered trademark of the Academy of Motion Picture Arts and Sciences. All other product and company names are trademarks or registered trademarks of their respective companies.